LEEDS grill mitten, "Stone"
Heavy, heat resistant suede
Cotton lining
Centered thumb grip – fits both hands
Extra long and protective sleeve
Oven and grill protection
A generous mitten to protect the cook when handling food on the grill or in the oven. Leather and suede have natural heat resistance and the sleeve has been elongated for more cover and protection. The thumb grip is positioned in the center and makes the mitten suitable for all users.
Chef's table from Professional Secrets
Professional Secrets' dining accessories have been created to elevate the experience of preparing and sharing a meal with loved ones. 
(Swedish) form follows function
Our products for the dining table have been designed to add function, comfort and personality to your kitchen and your home.
Great materials only
All PS Table products are made with first class, sustainable materials that age with beauty. The more you use them, the more attractive the patina, the look, and the personality.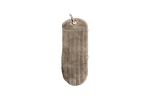 Comments