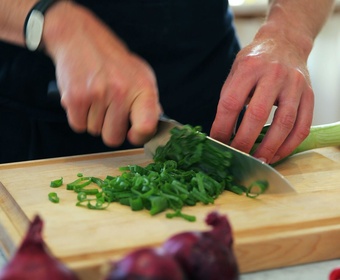 PS cutting board
The cutting board gets less attention than many other kitchen tools, but for a pro it is no secret that it has to satisfy many demands. It is a working surface and a close partner with the chef's most important kitchen tool, the knife.
Sustainable beech
The material is beech, an attractive and lenient material – for knives as well as for the environment. Size and weight has been adapted to suit an "ordinary" kitchen.
The perfect hardness
Beech is soft enough not to damage the knife or the hand of the user, but it is also hard enough to stop the blade of the knife from sinking in too deep. Deep cuts can become a haven for bacteria, in the worst case the blade can get stuck and damaged.
Silicon mat included
The silicon mat provides a steady, non-slip support on almost all surfaces in the kitchen. A canvas suspension is also included – a perfect way of keeping the board dry when not in use.
Small book of cutting boards included:
The board should be relatively soft, for the sake of your knife and your hand.
A cutting board is a working surface. Use a humid kitchen towel or a suitable mat to keep the board in place.
A professional chef wipes the board with a kitchen towel if wet.
PS cutting board:
An enlarged basin stops juices from overflowing.
Beech is a common, fast-growing and environmentally sustainable material.
The silicon mat provides stability and grip on most surfaces.
SPECIFICATIONS:
Material: Beech
Dimensions: 420x300x20 mm
Material silicon mat: Silicon approved for food handling
Suspension – Canvas
Buy and sell
Do you want to buy PS cutting board? Contact us here.
Do you want to be a reseller of our cutting board and other PS "Chef's Essential Kit" products? Contact us here.