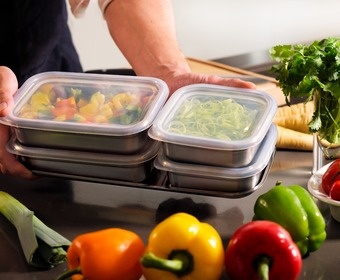 PS mise en place bowls
All professional cooks prepare by peeling and chopping their ingredients. For the sake of effectivity and hygiene these ingredients need to be sorted and close at hand in the work station. This is what constitutes a "mise en place", roughly "everything in it's place".
Tidiness and storage
PS mise en place bowls are suitable for preparations as well as storage. Made from stainless steel, they can go from cold to hot (or vice versa) without releasing unwanted substances. The lids are made from optimal plastic for handling food.
Perfect lunch boxes
The attractive, stackable containers are also perfect as lunch boxes. Steel does not go in the microwave oven, but see it as an advantage: You get to eat on a plate which heightens your food experience.
Book of m-e-p bowls included:
An unbeatable kitchen tool for order and effectivity.
Facilitates the last, most stressful moments when cooking.
Also suitable for storage.
PS mise en place bowls:
Heat-resistant and suitable materials for food. Also resistant to UV-light, cold and hard work in the kitchen.
Air-tight lids for maximum hygiene. Odour-free in your fridge.
Sizes customized for household fridges and needs.
SPECIFICATIONS:
Material:
Bowl – brushed stainless steel
Material: Lid – coloured plastic
Material: Tray – brushed stainless steel
Dimensions:
2 Bowls: 183 mm x 123 mm 0.85 L
2 Bowls:
123 mm x 123 mm 0.55 L
1 Tray: 
335 mm x 143 mm
Buy and sell
Do you want to buy PS mise en place bowls? Contact us here.
Do you want to be a reseller of our m-e-p bowls and other PS "Chef's Essential Kit" products? Contact us here.