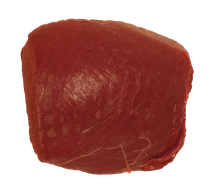 JOINT OF MOOSE
A joint of moose can be a round or silverside or other cuts. With a bit of good will, a shoulder can even be roasted whole in the oven and carved into beautiful pink slices. If you've bought a frozen joint and have plenty of time on your hands, you can slow cook it from frozen, Norwegian style.
Keep in mind
The cuts are lean. It's important to retain the meat juices by not overcooking it. 
Cooking a whole joint rather than slicing it first is a good way of stopping it from drying out unnecessarily. Use a thermometer!
How to cook a moose joint
Bring the joint out to warm to room temperature and salt it (or cure it with 60% sugar and 40% salt) for about 1 1/2 hours before cooking. Brown the joint on all sides in oil for heat and butter for flavor. Cook in the oven at 125°C. Use a thermometer and aim for 55-60°C because the temperature will rise a few more degrees as the meat rests. Enjoy immediately.
Or try cooking your moose roast the other way round:
The award-winning game chef KC Wallberg roasts his meat in a roasting bag and doesn't brown it until it's finished cooking in the oven. That way you bring the aroma of freshly roasted meat, known as the Maillard effect, right to the table. A bit of rosemary in the pan is good too.
The basics when cooking a game joint:
Leave it out to reach room temperature.
Salt the meat at least an hour in advance.
Brown the surface in a mixture of oil and butter.
Finish cooking in the oven at 125°C.
Use a thermometer and aim for 55-60°C.
Leave to rest for approximately 15 minutes – but eat immediately.
If you like your joint rarer: Take it out of the oven when the temperature reaches 48°C.
If you like it more on the pink side: Take it out of the oven when the temperature reaches 52°C.
Slow-cooking from frozen:
Preheat the oven to 80°C.
Place a deep-frozen joint in a roasting dish at the bottom of the oven.
Roast – it usually takes 8-12 hours – to an internal temperature of about 65°C.
Place in a cold, spiced salt solution for about 5 hours.
Wipe dry and serve cut into thin slices.
Stir fry: A moose joint can also be shredded and stir fried. The heat should be high and only for a short time. Marinating the shredded meat in oriental spices before you start works well.
You'll find more ideas for cooking game under cooking game.
The classic
Thin, tender slices of slow-cooked elk with a classic potato gratin.