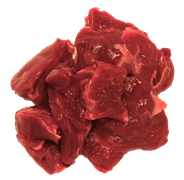 SHOULDER OF MOOSE
The shoulder consists of hard-working muscles and is a large cut from a fully-grown animal. Compared with a shoulder of lamb or beef a shoulder of moose, like all game, is considerably leaner, but is great in a stew. Handled the right way, it can also make a good Sunday joint.
Keep in mind
Prepare the meat but don't remove too much tissue or any fat. This is where you'll find the flavor and texture.
How to cook shoulder of moose
Some kind of slow cooking is the easiest route to success. Don't cut the meat into too small pieces as it will shrink as it cooks. 3 x 3 x 3 centimeters is usually about the right size of cubes.
The basics when slow cooking game:
Slice the meat into fairly large pieces (they will shrink as they cook).
Salt the meat at least an hour in advance – for flavor and more tender meat.
Brown the pieces of meat in oil and butter.
Follow your recipe. Remember that your vegetables need less time to cook.
You an also cook the shoulder as a joint. The basics when cooking a game joint:
Leave it out to reach room temperature.
Salt the meat at least an hour in advance.
Brown the surface in a mixture of oil and butter.
Finish cooking in the oven at 125°C.
Use a thermometer and aim for 55-60°C.
Leave to rest for at least 10 minutes – but eat immediately.
You'll find more ideas for cooking game under cooking game.
The classic
Moose casserole with red wine. Along the same lines as coq au vin but replacing a French cockerel with a moose, probably from somewhere that isn't France. Serve with blackcurrant or rowanberry jelly.