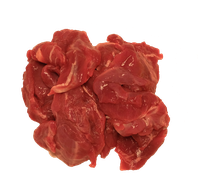 SHOULDER OF REINDEER
Compared with a shoulder of lamb or beef, all game meat is lean, and reindeer is no exception. Nevertheless, it's still perfect cooked slowly in a game stock with red wine and thyme, for example. Handled the right way, these front muscles make a good joint too.
Keep in mind
Prepare the meat but don't remove too much tissue or any fat. This is where the taste and the texture come from.
How to cook shoulder of reindeer
Slow cooking: Prepare your meat carefully and cut it into cubes 3 x 3 x 3 centimeters big. The meat needs time to become tender but game needs less time than other meat, especially if you have salted it in advance. Your stew should never boil, just simmer, and maintain a temperature of 85°C.
Use the bone to make stock – and/or include it in your slow-cooked stew. Game bones produce an unusually fresh stock with a slightly subtler flavor than lamb or beef. If it's too subtle, top it up with ordinary meat stock.
The basics when slow cooking game:
Slice the meat into fairly large pieces (they will shrink as they cook).
Salt the meat at least an hour in advance – for flavor and more tender meat.
Brown the pieces of meat in oil and butter.
Follow your recipe. Remember that your vegetables need less time to cook.
You an also cook the shoulder as a joint. The basics when cooking a game joint:
Leave it out to reach room temperature.
Salt the meat at least an hour in advance.
Brown the surface in a mixture of oil and butter.
Finish cooking in the oven at 125°C.
Use a thermometer and aim for 55-60°C.
Leave to rest for at least 10 minutes – but eat immediately.
Carve across the fibers.
You'll find more ideas for cooking game under cooking game.
The classic
Reindeer casserole with cream and a dash of Madeira.