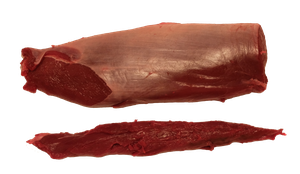 ROE VENISON FILLET
Fillets from larger roe deer are big enough to be cooked separately. Otherwise they usually form part of a saddle of venison. Fried quickly in plenty of butter, it will melt in the mouth of your appreciative dinner guests.
Keep in mind
The meat of the fillet is extremely tender and – unlike game joints – mustn't be cooked at a low temperature because there's a risk it will take on a sticky, mushy consistency. Too low a temperature and slow cooking can also bring out a flavor similar to liver, which many people unfortunately associate with game.
How to cook roe venison fillet
This is a lovely little bit of meat. Let it be. You'll go a long way with nothing but salt, pepper, butter and a cast iron frying pan. Or miss out the butter and char-grill. But whatever you do, don't cook it for too long.
The basics when cooking a game fillet or small steak:
Fry the meat whole to retain the juices.
Bring to room temperature and season in good time before cooking.
Brown in oil and butter on a medium heat.
Turn the meat constantly so the heat spreads evenly throughout.
Use a quick and sensitive thermometer. Aim for 55-60°C.
Important: Give the meat enough time to rest and even out the heat, at least 10 minutes.
Char-grill this tender little piece of meat:
Roe venison fillet is perfect for char-grilling because it's so small. Use a very hot cast iron frying pan with no fat and quickly give it a delicious, dry-seared surface all over. The middle of the meat should still be raw and juicy. Slice thinly, sprinkle with some salt flakes and serve.
You'll find more ideas for cooking game under cooking game.
The classic
Roe venison fillet with a full-bodied mushroom sauce and chopped root vegetables.