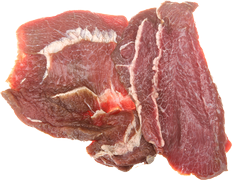 OX CHEEK
Is sometimes served in restaurants with high ambitions and delivers almost as much taste for the money as ox tail. The ox cheek works hard during the lifetime of the animal and has a deep, lovely taste.
Keep in mind
You must probably order ox cheek in advance, even at a good butcher. This tiny cut will serve two to three people.
How to cook ox cheek
Braise slowly and carefully in red wine with garlic and herbs until the meat is tender and juicy. Why not in a cast iron pan in the oven overnight? Or use the pressure cooker.
The classic
Joue de boeuf aux carottes, braised ox cheek with carottes. The combination of sweet and bitter in the carottes accompanies the umami in the ox cheek perfectly.