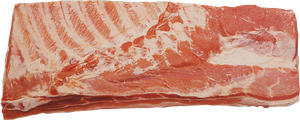 PORK BELLY
This cut is often salted and sliced. Smoked it becomes bacon. The fat content is about 90 percent.
Pork belly is popular in China and Korea. It is also one of the base ingredients in the French "Choucroute garnie" and Germany's "Schlachtplatte".
Keep in mind
Pork belly comes in various shapes and sizes but works very well as a taste enhancer, especially in rich, country casseroles.
How to cook pork belly
Whole pieces of pork belly have a long shelf life, which means that you can invest in a larger piece of high quality for your kitchen. You then have an ingredient and taste enhancer that you can shape and use in many different ways.
Experiment with bacon, pork belly, lardon and pancetta. When French pork belly, lardon, is chopped, the pieces are called lardons. The Italian version, pancetta, is air-dried and especially tasty. Sweet, hot and sour kitchens from Asia also go well with pork belly in all its forms.
Fresh pork belly can be boiled and then grilled. Or salted and spiced and boiled. Crispy rind is a delicacy and a perfect snack. Whole roasted, crispy pork belly is a popular dish in many outstanding kitchens.
The classic
A new classic is tender, oven roasted pieces of pork belly with a crispy rind.