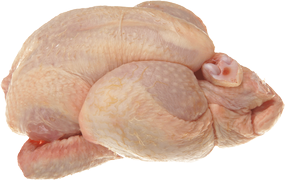 SPRING CHICKEN
A portion size chicken that is available in the spring.
Keep in mind
This is a delicate young animal with mild tastes.
How to cook spring chicken
Smaller than a common chicken, a spring chicken is usually found in stores in... spring.
Allow for the spring chicken to become one of a few, unadulterated tastes, which all are allowed to shine on the plate. It is portion size and becomes a beautiful part of the composition. You can stuff this small chicken with chicken mince, nuts, spices, gravy, celery, cream, etc, before you cook it.
The classic
Roast spring chicken with primeurs, or asparagus and a Chablis sauce. Sometimes, the most simple thing is the most delicious one.