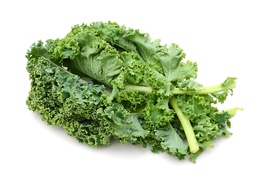 KALE
These curly leaves come in a range of colors. Kale has been grown for centuries but has recently gained a reputation as a super food: Like all brassicas, it contains plenty of nutrients such as minerals, vitamins and antioxidants.
Today's kale is so accommodating that it doesn't need to boil for as long as old recipes say. To retain all the nutrients, ideally it shouldn't boil for longer than 7 minutes. Many people say that all it needs is a quick dip in boiling water. It's a matter of taste, so try it and see.
Both green kale and black kale are better if they've survived the first frosts.
Keep in mind
Kale shrinks a lot when cooked. Grab plenty of it when you're shopping. Kale is cheap and can be parboiled and frozen if you've got more than you need.
The veins in the middle of the leaves are a bit hard but chopped into thin slices, kale makes a crisp topping to sprinkle on anything from salads to casseroles.
How to cook kale
Raw kale goes well in a salad but can also be deep fried, parboiled, fried, cooked in cream and made into kale purée. Or bake it in the oven as part of a vegetable frittata.
Freshly harvested raw kale ripped into small curly pieces makes an attractive salad, ideally with apple, sunflower seeds and a good vinaigrette made from cider vinegar and a good oil.
Deep fry kale crisps to serve with drinks: Green kale is thinner than many other brassicas which makes it a slightly easier – or at least quicker – choice when making kale crisps. You can have a higher temperature applied for a shorter time in the oven, in a roasting dish with a little oil. Add plenty of salt and serve as a snack or a garnish. Or mix with pasta.
Blanched green kale is a good side dish or the basis of a warm salad. Here's how: Bring a little well-salted water to the boil and beat in a knob of butter. Place the kale leaves in a sieve or colander and slowly pour the water over the top while stirring with a spoon.
Kale cooked in cream is a Scandinavian Christmas dish. The kale is cooked in the liquid from the Christmas ham. Reduce the cream until it "attaches" to the kale (and so the kale doesn't get overcooked).
Kale purée can add an attractive touch of green to the plate. Rip the leaves and boil in lightly salted water until soft. Leave to cool and drain before puréeing until smooth in a food processor. A splash of olive oil adds the finishing touch.
The classic
Kale cooked in cream.