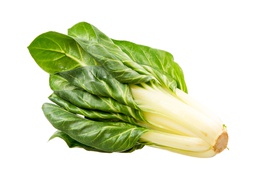 PAK CHOI
This attractive, crispy vegetable has been enjoyed in China for thousands of years. It's only been eaten in Europe for a few decades.
Pak choi is closely related to Chinese cabbage, but has a completely different kind of crispness. Raw and thinly sliced it works well in salads but it's when quickly fried, grilled or boiled that it gets really interesting.
Keep in mind
Pak choi is also known as bok choi.
The size of this crisp plant can vary.
How to cook pak choi
In China it's used in practically everything. Pak choi offers many different textures in a single vegetable. It has a huge range of uses and can be fried, grilled and boiled (ideally just quickly).
Stir fry in oil. Slice the leaves and apply high heat for two minutes max. It should retain its crispness but the pieces can be a little brown and "done" around the edges. Add garlic, black pepper, mushrooms, chili, prawns, soya, fish sauce or bacon, for example.
Slice in soups, ideally a delicious chicken stock made from a chicken carcass. Piquant Asian spices are a hit but not a must. Here too the pak choi should be added at the end so it retains some of its crunch.
The classic
In a stir fry, just added quickly at the end.