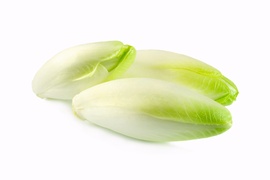 ENDIVE
These small, elongated lettuces have yellowish white, strong, juicy leaves with a slightly bitter taste. They are also known as Belgian endive. The leaves can be shredded or sliced in every direction. Whole leaves are ideal as edible scoops for various dips and finger food.
Keep in mind
Cut off the coarse and bitter part at the base.
Keep the lettuce moist with a damp cloth, for example. If it starts to wilt, put it in ice cold water for an hour or two.
How to use endive
If you like the slightly bitter taste, this is a very useful type of salad. Eat it raw as whole leaves or shredded. Or fry, braise and grill your endives.
Treat endive like any new spring vegetable: Boil in lightly salted water with a spoonful of butter.
Braise, i.e. fry first and then boil, in freshly squeezed orange juice with a little sugar and lemon.
Take off the leaves, which can serve as small bowls for blue cheese and walnuts as a starter.
Slice the endive into chunks and fry with spices like thyme and garlic. Then finish off in the oven at 225°C for 10 minutes.
Endive is good with goat's cheese, pears and walnuts. Warm cheese and cold endive or vice versa, but always with roasted nuts because they add so much more flavor.
Cut the endives in half and put on the grill. Olive oil and sea salt work miracles.
The classic
Endive salad with blue cheese and walnuts.