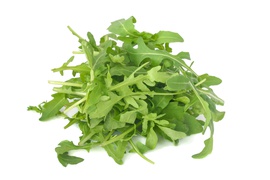 ROCKET
Rocket is like fine dandelion or radish leaves. Rocket originates in northern Europe. In the US it's known as arugula.
The flavor is strong, bitter and nutty, with an element of pepperiness that can sometimes be quite strong. It's this concentrated spiciness that makes this lettuce so good mixed with fresher, watery varieties.
The leaves are delicate and should be eaten as quickly as possible. The color is an even green and quite matt.
Keep in mind
The pepperiness will vary considerably from plant to plant. Taste it before deciding whether to use it as a salad or a herb.
How to use rocket
The strong flavor means that rocket is often used where it adds a bit of pepperiness, almost like a herb. But it also works on its own as a salad or with more neutral types of lettuce.
Mix rocket with pasta, it adds extra bite and looks attractive. Just remember to do it just before serving or the leaves will go slimy.
Rocket, parmesan, tomatoes and roasted pine nuts go very well together. In a pasta salad with green lettuce, accompanied by goat's cheese, mozzarella, brie or as an edible decoration.
Put a bunch of rocket on a pizza just after it has come out of the oven. It looks good and tastes even better.
If you've got lots of rocket, make rocket pesto: Crush finely chopped rocket, garlic and pine nuts with olive oil in a pestle and mortar until you've got the perfect pesto consistency.
Make rocket oil to season salads and pasta. Rinse the leaves carefully, dry them and mix with olive oil. Green is good.
The classic
A bunch of rocket on pasta or pizza.