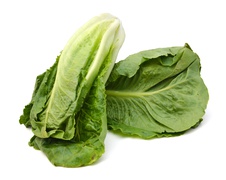 ROMAINE LETTUCE
Also known as cos lettuce. This head of lettuce is long and narrow and the leaves are loosely attached and slightly thicker in the middle. The color is light or dark green, but there are also red varieties.
This is quite a sturdy type of lettuce which is quite crisp in the mouth. Mix with slightly more tender leaves.
Keep in mind
Shred with a knife or your fingers. For mouth feel, it's good if you can include the green parts that are full of flavor and the crunchy bit in the middle. There needs to be a balance.
Keep the lettuce moist with a damp cloth, for example. If it starts to wilt, put it in ice cold water for an hour or two.
How to use romaine lettuce
Romaine lettuce is good eaten raw but can also be fried, thanks to the chunky vein in the middle of the leaf.
Sauté chopped garlic and pieces of romaine lettuce in olive oil. Add salt and pepper, squeeze over a little lemon and eat as a side dish.
Make a creamy salad, e.g. with crème fraîche, red onion, apple and lemon.
Caesar salad with parmesan and an anchovy and Dijon mustard dressing is a real classic.
Salade Niçoise is another classic salad where the romaine lettuce leaves take pride of place among tuna, haricots verts, anchovies, capers, olives and boiled egg.
Slice the leaves into pieces and quickly fry. Mix with thinly sliced carrot, swede and a Thai dressing.
The classic
Caesar salad.