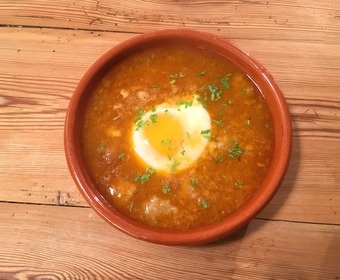 Simple, rustic garlic soup
"Sopa de ajo", garlic soup is classical poor man's food from Castile in the heart of Spain. With this very simple recipe you can cook up a filling and heart-warming soup with a minimum of ingredients – while at the same time impressing your guests.
Preferably old bread
In a Spanish kitchen you can always find some left over bread from the day before.This is an important ingredient in many classical dishes, among them a genuine Castilian garlic soup. Use dry, white bread that will absorb olive oil, broth, and flavors in the best way possible.
If you only have fresh bread, dry it gently in a toaster or in the oven.
Apply low heat to oil
Important: The garlic should only be softened in the cooking oil for a minute or two so that it "melts" in the soup. If the oil is too hot there is a risk that the chopped garlic will dry out, forming small, hard lumps with an aggressive, acrid flavor. Be meticulous with the temperature and prepare a mise en place so that you don't burn the garlic while your attention is elsewhere…
The right amount of garlic
The purpose of this dish is not to shock your guests with a garlic explosion. However, garlic should be the dominating flavor (unless you decide to go with cured Spanish ham which has a way of dominating everything…).
The quality and flavor of garlic can vary greatly from one season to another. Therefore the amounts suggested in this recipe are only an indication.
Note: Don't be afraid to overdo it with the garlic. When cooked with care and moderation this amazing ingredient gives rise to tasty, mellow flavors, not unlike onion. You want at least one clove per person.
Chopped or pulp
The garlic can also be crushed to a pulp in a mortar, to avoid bits of garlic in the soup. With this technique it is even more important to keep the temperature of the oil down.
In season – or not
Garlic is an ingredient that – with the right storage – works all year round. Traditionally this dish is eaten to get your spirits and your heat up during the coldest months of the year, but making it from fresh garlic in spring is also a treat. Read more about storing vegetables.
Add some bling
Some tips if you want to pimp this humble dish:
Simply serve a smaller, more delicate portion
Garnish with a fine oil and, for example, fresh thyme
At the end, heat the soup in portions in the oven with an egg in each
Serve with a dry sherry
Ingredients garlic soup
Serves 4 to 6
4 chunky slices of coarse white bread
Approx 1/2 dl olive oil
6 to 10 cloves of garlic
½ glass of dry white wine
1 L quality chicken broth
1 tsp sweet red pepper powder
A pinch of chopped parsley
4 eggs (one per guest)
Salt and pepper
(Optional: 2 slices cured ham, jamon serrano)
Instructions:
Dice the bread and peel and chop the garlic. If adding serrano ham, shred it. Heat the chicken broth.
In a large cooking pot: Fry the garlic in olive oil on low heat until it is soft and golden – it must not char. Add serrano ham (or not) and fry a little more. Add the pepper and bread and stir gently, mixing flavors and ingredients.
Add the wine and then the chicken broth, most of the chopped parsley and let simmer for about 10 minutes. Top off with salt and pepper.
Lower heat and crack the eggs and add them gently to the soup, as if poaching them. Put a lid on the pot and "poach" until the egg white is solid but the yellow remains soft.
Scoop up the soup into rustic bowls. Make sure an egg ends up on top in each.
Garnish with a little chopped parsley, olive oil and serve piping hot!
Chef's suggestions:
For an even more basic soup: Simply stir the eggs into the soup at the end and serve.
Skip the eggs and the cured ham and you have a filling (almost) vegetarian soup (we do not recommend replacing the chicken broth with vegetable broth…).
Using a hot red pepper makes the soup evern more heart-warming. Your call.
Go easy on the salt if you have cured ham – which is very salty – in your soup.