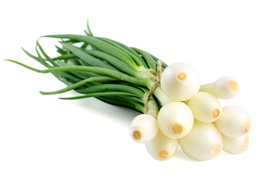 FRESH ONION
When the growing onions are harvested in the summer, the result is fresh onion with the green tops and everything. The dry, protective skin of the onion itself hasn't formed yet.
Keep in mind
Fresh onions are mild, the sharper flavors haven't developed yet.
Check your local harvest times for when fresh onions will be in the shops.
How to cook fresh onion
Don't over-complicate things. The only thing you actually need is a light hand and a little salt and butter.
Grill it with indirect heat. The fact that it ends up a bit blackened on the outside doesn't matter when it's so sweet, creamy and good inside.
Use the tops in stews, soups and salads. There are professional cooks who think this is absolutely the best part of the onion. If you're not sure, treat it like leek.
Pretend the fresh onion is asparagus. Cook it gently and serve with a vinaigrette – but remember that different sizes of onions take different times to cook.
The classic
Grilled fresh onion with romesco sauce.