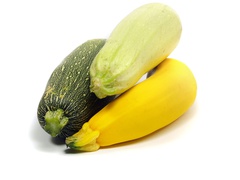 SQUASH – COURGETTE – ZUCCHINI
Courgette is the French name, Zucchini the Italian. Zucchini is the plural so if you're only cooking one, it's actually a zucchino. Courgettes belong to the pumpkin or squash species in the gourd family. This long green or yellow vegetable ranges in size from 10 to 30 centimeters. Any longer and they're better to boast about than they are to eat.
The taste is neutral and the flesh is firm, which makes courgettes a useful ingredient. But they do need a little cooking to make them really interesting. Deep fried or stuffed oven-baked courgette flowers are a delicacy around the Mediterranean.
Choosing courgettes
Courgettes should be smooth and springy, almost like a cucumber.
Avoid really big ones as they can be woody with a nondescript flavor.
Decorative, often multicoloured, squash and zucchinis are not meant for human consumption as they may contain a plant poison.
Storing courgettes
Courgettes are quite tough and can last at least a week in a cool place after harvesting.
Preparing courgettes
If you're cooking large amounts, cut them up in advance and store them in the fridge in a plastic bag.
How to cook courgettes
You can eat courgettes raw, e.g. thinly sliced or finely shredded in a salad. But the mild flavor emerges much better if you cook it.
Grate for courgette fritters, fry, grill, oven bake, braise, boil or deep fry.
Fried courgettes are a fixture on the meze tables of the Mediterranean. Pour plenty of olive oil into a pan and fry thin slices or thick sticks, depending on the final texture you're aiming for.
Make veggie fritters: Grate the courgette, salt it and leave to stand for an hour. Squeeze out the liquid and mix the grated courgette feta cheese/halloumi, pepper, dill/mint, flour and egg. Mix together and fry the fritters until golden brown in olive oil.
Grilled courgette! Cut it lengthwise or diagonally into slices to give you a flat surface to decorate with grilled stripes. Place on the grill. If you want your vegetables to have more flavor, take the warm courgette and marinate it after cooking in a balsamic vinaigrette.
Oven bake courgette with other vegetables on a large baking sheet. Drizzle with oil, sprinkle with sea salt and place in the oven at 190°C for 30-40 minutes.
A quick dinner: Cook pasta. Fry courgette. Roast pine nuts. Grate parmesan. Mix pesto and the courgette into the pasta and sprinkle with parmesan and roasted pine nuts.
Boiled courgette has a soft but consistent texture of its own and adds a mild flavor to casseroles and stews, such as ratatouille.
Deep fried courgette – and courgette flowers – are a delicacy. Read about deep frying here.
Braising courgette to bring out the flavors: Cut into pieces all the same size and brown in butter and/or oil. Add a little liquid – for example water, stock, wine, beer – and reduce until the courgette is done. It should retain its texture and chewiness.
The classic
Ratatouille, French vegetable stew with courgette, aubergine, tomato, onion, pepper, thyme and garlic. Apart from the rat aspect, the film Ratatouille gives an excellent picture of life in a professional kitchen. Watch it!