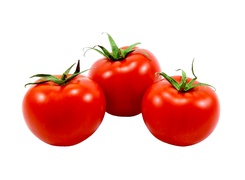 TOMATOES
The general term "tomatoes" stands for – or has come to stand for – the spherical, medium-sized, juicy and perfectly red variety that tends to be most common where you buy vegetables.
It is the most uniform and versatile kind, but not necessarily the most interesting in the kitchen.
Keep in mind
These tomatoes have probably not been cultivated for the sake of their fantastic flavors, but more likely because they fulfill the consumers idea of what a tomato should look like. And because they grow in a uniform way and turn red all at once, making harvest and delivery to the market a lot easier for the farmer.
The time of year makes a big difference on taste and quality. Locally grown tomatoes are at their best in the middle of the warm and sunny season. Vine ripened tomatoes will often – but not necessarily – be of better quality.
The flavor can be quite acidic.
How to cook tomatoes
The more ripe they are, the more you can do with them.
Finely chopped tomato, finely chopped (mild) onion, chopped fresh herbs of some kind, and a little salt is all you need to make a salsa for any kind of grilled meat or fish.
The uniform shape and size will give you neat and uniform wedges. Use them as both ingredient and decoration. Flaked salt and/or balsamico vinegar enhances both looks and flavors.
Don't throw away tomatoes with beauty defects (not meaning big blemishes caused by mold…). Cut away the ugly bits and put the rest in a tomato sauce or ragout.
The classic
A simple tomato salad with thinly sliced red onion.