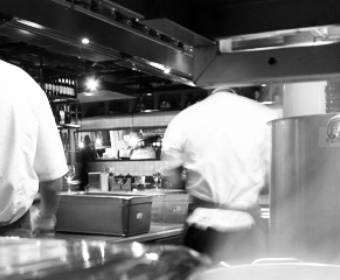 Learn from professional chefs
At PS Academy, we give you insights and tips about how to choose, store, prepare, cook and serve fantastic ingredients. We'll help you identify products you'll find in butcher, fishmonger and grocery stores. And we'll give you some great ideas about what you can do with them.
Straight from the pro's kitchen
Knowledge about the food we eat has been lost in modern homes over the past few generations. We increasingly buy fully or partially pocessed foods, we spend less time cooking, and our knowledge about how to handle raw products like meat and fish has declined.
However, there is one group of people who still today retain and use this knowledge: In the kitchens of top restaurants around the world, a deep and dynamic knowledge about food and cooking still prevails. Spreading the knowhow and passion of skilled professional cooks is what PS Academy is all about.
The kitchen brigade
Many of the world's great restaurant kitchens are run along the lines of the so-called Brigade de Cuisine, or 'kitchen brigade', which allocates rank according to experience. Everyone in a professional kitchen knows her or his role, making it possible to serve hundreds of picky diners at one and the same seating.
To help you see how your ability as a budding chef is evolving, we have chosen to use a similar ranking structure on these pages.
Welcome to PS Academy!