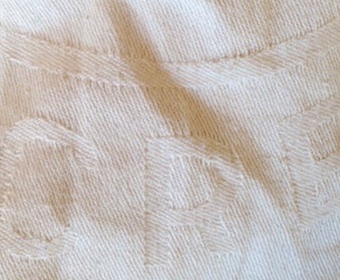 The most versatile tool in the kitchen
It's easy to underestimate an ordinary kitchen towel, but in the hands of a professional chef, a top quality side towel (or cloth) is one of the most versatile and important tools in the kitchen.
The towel should be clean and dry and at your side regardless of where you are in the kitchen or what you are doing. Ideally, you should have it hanging from your waste so it's within easy reach. Attach to your apron's fastener, your belt or in the belt hanger.
Professional chefs don't want their towels patterned or colored. It should be easy to spot flecks and anyhting that sticks to the towel. The weave should make the towel easy to hold and safe to use and it shouldn't become 'knotty' after numerous washes. Washing the towel often will only improve its absorbent qualities.
Your kitchen towel has more uses than any other tool in a kitchen. It can be used for everything, from mopping up to saving lives. It stops blood flow and makes an excellent bandage. Fill it with ice and you can soothe burns and bruises.
Some uses :
To protect against splashes, for example when you crack open a shellfish. And to protect your hands when opening oysters.
To get a grip. Your towel helps you get a firm, safe grip on everything, warm, cold, sharp or slippery.
Improvised apron. You should be as clean and attractive as your kitchen. Use the side towel to cover embarrassing flecks on your apron.
The best ice crusher. Make a bag with the towel, fill with ice and bang against the table or bash with a heavy frying pan. You can also crack open nuts this way!
Change your side towel frequently. A dirty towel should not come near any food. A damp towel does not insulate against heat. A clean and dry towel says a lot about you and your kitchen.