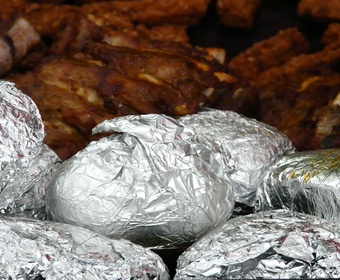 COOKING POTATOES
Cook potatoes properly.
Learn the techniques.
Cook for flavor and texture.
Only use hot and freshly cooked potatoes for mash.
All floury potatoes are baking potatoes.
Our favorite tuber needs to be cooked to come into its own. It can be boiled, fried, deep fried, oven baked and spread its mild, slightly nutty flavor in gratins, soups and casseroles. The taste is mild but one explanation for the popularity of potatoes might be that they offer satisfying umami.
The art of boiling potatoes
If you're eating potatoes whole, choose a waxy type. If you're making mash, purée or riced potatoes, choose a floury variety.
Use a big enough pan, the potatoes should cover the bottom. Pour in water so that it just covers the potatoes.
Add salt (1 tsp salt per liter water) and bring to the boil at the highest heat. Use a lid.
Turn down the heat once the water has come to the boil.
It should boil but not madly. Estimate about 20 minutes.
The potatoes are ready when you prod them with a skewer, a knife or a fork and don't feel any resistance.
The same size – the same time
Remember to choose potatoes that are the same size – or cut bigger potatoes in half – when boiling them, so that they are all done at the same time.
Waxy potatoes for what?
Waxy potatoes are ideal for many different preparation methods and techniques. The point is often to give this quite unassuming tuber a tasty surface and more exciting textures.
Oven-baked potato wedges 
This method gives a good surface and a bit of chewiness. If the potato peel isn't very thick, keep it on. Slice the potatoes into chunks, drizzle with a little olive oil and bake in the oven at approximately 200°C for about 30 minutes. A sprig of thyme or rosemary can be added.
Make your own chips
It's not difficult, they'll come out beautifully crisp if you deep fry them twice at 160° C followed by 180° C. 
Serve deep fried potato skins
Make sure the potatoes are properly washed. Peel away a bit more than the peel with a sharp knife. Then deep fry the shells and serve them with drinks, e.g. with a spoonful of sour cream and a bit of whitefish roe.
Bake with butter
Peel potatoes and cut them into slices but not all the way through. One tip is to put the potatoes in a wooden ladle, cutting into them and stopping where the ladle meets the blade.
Bake in the oven at 225°C for approximately 20 minutes.
Brush the potatoes with butter, sprinkle with breadcrumbs and return to the oven for another 20 minutes.
Fried potatoes
Cut them into dice and fry with other root vegetables, for example. Or make a raw grated salad: Grate the potatoes. Add salt and pepper, mix and spread out the potato into a thin layer in a hot frying pan with plenty of butter. Enjoy with sour cream, salted whitefish roe and finely chopped red onion.
Mix with other ingredients to make potato salad
Boil the potatoes (without overcooking, keep an extra eye on them). Choose between creamy varieties – ideally with Dijon mustard – or throw a vinaigrette over the hot potatoes and slice in some spring onions or leeks. Fresh herbs such as flat leaf parsley, oregano, thyme and sage are good additions.
Love new potatoes for longer
Once the first "new potato fever" has abated and you've served boiled new potatoes with dill and butter enough times, make a potato salad from whole small potatoes, or roast them in the oven to bring out more concentrated sweetness.
Try papas arrugadas
Small potatoes are boiled in a small amount of water with a large amount of salt until the water has evaporated. What you end up with are wrinkled potatoes with loads of flavor. Dip them in a hot red or green sauce: mojo rojo or mojo verde. The recipe comes from the Canary Islands and the salty water was originally sea water.
Don't forget rösti
Invite hungry friends to eat Swiss potato cakes. Coarsely grated potatoes baked in the oven with leek and egg will keep guests well fed all night.
Potatoes in soups and stews
Dice the potatoes and add them to a vegetable soup or goulash. A waxy variety will keep its shape even if boiled for a while.
Floury potatoes for what?
Floury potatoes feel less glamorous than their waxy relative but with the right techniques they offer tons of flavor and smooth textures.
You can never go wrong with a potato gratin
You can make a gratin with any kind of potato but with a floury variety you get a more solid "potato cake". Think of it this way:
Slice the potatoes or cut them into sticks, which will be cooked more quickly.
Only use floury potatoes or mix with root vegetables.
Add cream and garlic according to taste.
Make a big batch – it will be even better the next day.
Everyone eats potato gratin.
– Per Renhed, F12 and other restaurants
Floury potatoes for baked potatoes
The baking potatoes you find in the supermarket are often excessively huge. Go for a smaller variety instead, as long as it's floury. Prick with a fork, wrap in aluminum foil and bake at 225°C until the inside is soft and floury. Drench it in butter and fill with more good flavors; prawn mayonnaise is just one of many options.
For mash or purée
To easily make mash out of potatoes, you need a floury variety. Creamy mashed potatoes need butter and milk. Purée is finely chopped with lots of butter. Or make a coarser version that often contains root vegetables cooked until soft. Remember to always make mash or purée from warm, freshly cooked potatoes. Otherwise you'll get a sticky paste.
Omelets
Make a potato omelet, Italian or Spanish style; a frittata or tortilla.
Fry the sliced potatoes in olive oil first to give them a bit of color.
Add finely chopped onion and fry them together towards the end of the cooking time.
Mix eggs, milk, salt and pepper and grated parmesan if desired, and pour it in.
(Peppers, fried mushrooms or spinach are also good in an omelet).
Let the omelet set at the edges before baking in the oven at about 160°C for about 30 minutes.
Make a smooth potato soup
For example, vichyssoise, a classic French leek and potato soup. Press the soup through a sieve for the perfect result. A couple of potatoes make a good thickener in most vegetable soups which are to be puréed; broccoli, cauliflower or root vegetable soup, for example.
Even more potato
Potato pie is a mild and nutty delicacy, perfect with cold cuts. Estimate about 8 potatoes for the topping and the same amount for the filling. Serve with spinach and hazelnut pesto with basil and blue cheese.
Add potato to bread
Boiled, cold and preferably floury left-over potatoes make bread dough moister.
Add to a stew
Add floury potatoes to a stew, like any other root vegetable. They absorb the flavors better than waxy potatoes. If they boil for a long time, they fall apart and you'll get a thickened, more filling stew.