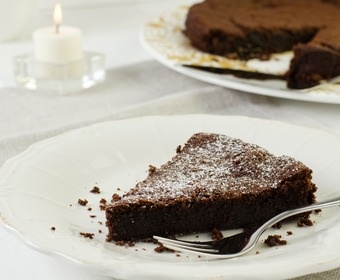 A simple Swedish mud cake
Master a reliable basic recipe and stick to it
It's sticky because there's no baking powder
Experiment with flavors but not proportions
Don't mess around with oven timings or temperatures
Ideally leave the cake to stand and settle a while before serving
Classic Swedish mud cake is the simplest of desserts but in the hands of a skilled and sensitive chef, it can reach culinary heights of perfection. A mud cake, also known as sticky cake, is baked without baking powder, which is what makes it sticky. There are hundreds, if not thousands,of (Swedish) recipes for this ridiculously popular classic online. So, our first piece of advice is:
One recipe is enough
A good strategy if you want your cake to succeed every time is to learn just one basic recipe that works for you and stick to it. Practice and adjust it until you've got it. After that, you can experiment with all manner of ingredients, flavorings and accompaniments.
Stir, don't beat
Mud cake should be compact and a bit chewy. To get that effect, you need to stir the ingredients together not beat them. You don't want a fluffy cake mix.
Choose concentrated flavors
If you're adding other flavors to your mud cake, it's important to do that in a form that has as little impact as possible on the consistency of the mixture and the cake. Orange peel, for example, works better than orange juice, which would dilute the mixture. Other things that work:
One tablespoon (you don't need more than that) of liqueur
Pistachio and other chopped nuts
Licorice powder
Vary your mud cake by using different sugar
It's not a good idea to reduce the amount of sugar in the cake because it will give it a different, drier consistency. On the other hand, replacing ordinary granulated sugar with another more exciting variety is an excellent idea. It gives your mud cake a completely different character. Some examples:
Mud cake with muscovado
A star (like practically everything that uses muscovado sugar). Your mud cake will take on an even deeper color and an even deeper, spicier flavor that leans towards licorice.
Mud cake with cane sugar
Cane sugar in the mix will give your mud cake a flavor reminiscent of toffee and caramel.
Mud cake with syrup
You can't replace all the sugar in the cake with syrup but it's fine to swap up to half of it. It will give you an extra sticky cake that tastes of toffee.
Get to know your oven
No two ovens are the same. Practice until you've got a perfect result in your own oven and learn the signs that mean you'll get it right even when using someone else's (see "How can you tell when mud cake is done?").
A lower temperature and more time in the oven produces a cake with a more even consistency.
A higher temperature and a shorter time in the oven produces a crispier outside and a gooier center.
Start at 175°C with 15–20 minutes cooking time as your "average".
How can you tell when mud cake is done?
Ovens, ingredients, the temperature of ingredients and other factors all affect the baking process. So here are some tips on how to recognize when a mud cake is done:
The cake is done when the edges are cooked, and a crust has started to form on the top.
And when it only wobbles a bit in the middle – less than it did originally – when you shake the tin slightly. (Note: Because this cake isn't meant to be baked until fluffy, it doesn't matter if you open the oven while it's cooking.)
Remember that it will be less gooey/sticky once it has cooled.
Better too sticky than too dry. It is called mud cake, after all!
If the cake is too gooey to be served, try sticking it in the fridge for a bit.
Remember the tin has an effect too
The cooking time and the oven temperature are vital, but don't forget that the thickness of the cake is a variable too. The recipe below – like most of the recipes out there – is intended for a standard cake tin with a 24 cm diameter. A bigger tin will mean a thinner cake and a shorter time in the oven, while a smaller tin will mean the opposite.
Higher quality cocoa
Cocoa mass is what's left over when cocoa beans are dried and pressed to force out the cocoa butter. Cocoa powder is ground cocoa mass.
If you choose fresher, high-quality cocoa for your mud cake, your mixture will be fuller and deeper in the pan. You can tell if cocoa powder is high quality by the color. The color will be a deep red-brown, not grey-brown. The flavor is clear and aromatic, even without added sugar. The highest quality cocoa bean is considered to be "Criollo".
Read more about chocolate and cocoa here
Fresh ingredients
Cocoa isn't the only ingredient that should be consumed fresh. Vanilla sugar, old flour and even old sugar can perform worse over time, which will affect your cake. Try to get into the habit of using your dry ingredients before they hit their best-before date.
Bake mud cake in advance
A mud cake tastes even better if you leave it in a cool place overnight, and the consistency improves too. You can freeze it as well.
Decorating mud cake
Rule number one when you're planning decorations and accompaniments to go with a mud cake – there are no rules.
In its simplest form, it's served dusted with icing sugar and a dollop of whipped cream, but this humble dessert deserves more than that. Think fruit, dessert sauces, flavor combinations, etc.
Basic recipe for a simple mud cake:
About 12 servings
100g butter
2 eggs
225g granulated sugar
135g plain flour
3 tbsps cocoa
1 tsp vanilla sugar
A little icing sugar
You need
A cake tin approximately 24 cm in diameter, preferably with a removable base
Grease and flour the tin
Method:
Preheat the oven to 175°C. Grease and flour the tin
Melt the butter in a large saucepan and remove from the heat.
Stir in the sugar and then the eggs. Add the flour, cocoa and vanilla sugar (you could sieve these). Stir, don't beat.
Pour the mixture straight from the saucepan into the tin.
Bake in the center of the oven for 15–20 minutes (see above for how to tell when it's done).
Leave to cool.
Decorate with icing sugar and serve with a delicious, decorative accompaniment.
The Swedish fika original
"Fika" has become a concept even outside Sweden and the Swedish sticky cake phenomenon has been exported too. We've used the name "Swedish mud cake" but "Swedish sticky cake" is another option.