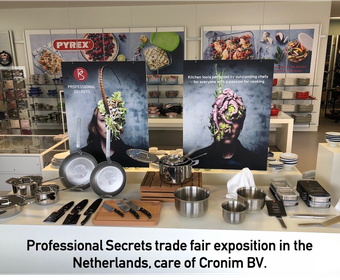 Professional Secrets and Cronim BV enter into partnership for BeNeLux market
The "foodie brand" Professional Secrets and the distributor Cronim, with more than 250 sales points in the BeNeLux, have entered into a partnership on sales, distribution and brand building in Holland Belgium and Luxembourg. Presently Professional Secrets products are found in more than 300 stores throughout the Nordic countries and so far, 8 stores in the BeNeLux with full product displays.
Cronim will have the exclusive right to the brand Professional Secrets in BeNeLux.
"The reason that we want to work with Professional Secrets is the clear targeting on the growing consumer group, the Foodie, the extensive content base of cooking knowledge and the unique products with booklets", says Paul Bos, co-owner of Cronim BV.
"Cronim and Professional Secrets share a belief in the value of building brands through storytelling. We are deeply impressed by Cronim and their skills in go to market strategy. We believe this partnership will further increase the success and growth of the Professional Secrets brand and sales growth for Cronim", says Niklas Wakeus, foodie and founder of Professional Secrets.
Both parties look forward to a long and fruitful partnership between the companies.
For more information, please contact:
Paul Bos, co-owner Cronim BV                         
Mobile: +31 (0)36 5325359                              
[email protected]                                           
www.cronim.nl                                               
Niklas Wakeus, Founder Professional Secrets
Mobile: +46 70 348 63 37
[email protected]
www.professionalsecrets.com
About Professional Secrets
Professional Secrets has built what is probably Europe's largest "how to" cooking database. In collaboration with outstanding chefs, Professional Secrets produces professional quality kitchen tools and makes tips and knowledge from the professional kitchen available for everyone with a passion for cooking – hoping to inspire more home cooks to create great food made from scratch.
About Cronim
The carefully chosen assortment of Cronim cannot be caught under a common denominator. We like to call it kitchen utensils ourselves, but it does not matter how much others call it. What do we think is important? That it does justice to what it is intended for, namely USE. We therefore assess our products for functionality, but nicely styled and of great quality.