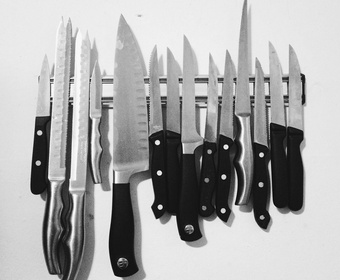 Professional Secrets' chef network
All of us at PS spend a lot of time in our kitchens, but we are not professionals. It is thanks to our friends – highly talented workhorses in some of the world's best restaurants – that we can bring together the knowledge and expertise that we want to pass on. Some of our friends:
Goran Trninic 
Gorans extensive career has taken him through all world kitchens. After training to be a chef in Sweden he moved to London and worked at – among others – French restaurant Coq d'Argent and Italian Cecconis. His Swedish career includes Berns Asiatiska, Grand Hotel, Edsbacka Wärdshus, Aveqia food studio, and more.
Kin Tsui at APO
Nowadays you will find Kin at crossover restaurant Asian Post Office in Stockholm. He previously worked at 39Wäst, Le Rouge, Bistro Berns, Grill, Tennstopet, Kitchen & Table, and as a pastry chef at Urban Deli.
William Ahlberg at Brillo
William is sous chef at Brillo in Stockholm. He has previously worked at, among many others, Djuret and Totemo Ramen.
Martin Isaksson at Chokladfabriken
Martin is a confectioner and since 1997 he runs Chokladfabriken together with Ellinor Isaksson. Martin can claim the titles world champion of food and Olympian medallist from his days with the Swedish National Culinary Team. When Martin is not busy making pralines or mousse, he coaches the Swedish National Confectioner Team.
Micke at Agnes
Micke Björkman has been head chef at Boqueria, Vassa Eggen and Tennstopet in Stockholm.  He has worked in outstanding restaurants in London, including Nobu and Asia de Cuba. His admiration of Spanish cooking – evident in Boquerian – comes from working in in Murcia, Spain. After starting successful restaurants deVille and Agnes, he is often employed as a restaurant consultant.
Per at Pond
Per has left his career as a chef behind to work as an Art Director and trademark consultant at Pond Brand Innovation Company in Stockholm (not surprisingly with food as a specialty). His career as a chef saw him demonstrating his skills at F12, The Restaurant in London, and more.
Anna Lindblad
Anna Lindblad ran Bistro Nouveau at Kommendörsgatan in Stockholm for a total of six years together with Cara Cooper-Key. She has worked as a chef at Den Gyldene Freden and Coco & Carmen, two famous Stockholm restaurants.
Mackis at Tranan
Mac Donald Lundgren runs the long-famed Tranan restaurant at Odenplan in Stockholm. His lengthy career as chef includes two years in Mandalay, Myanmar/Burma, three years  at the Hotel Royal Garden in Hong Kong and five years at Stockholm's Wedholms Fisk restaurant.
Christophe at Bleck
Christophe Buchet is presently working in Bleck in Stockholm. Previously he worked at Michelin star restaurant Ekstedt, where every item on the menu is prepared over open fire, and Sannas Kök. He has also worked at such distinguished Stockholm eateries as Sjögräs, Boqueria, Pubologi and Leijontornet. Like many other chefs he launched his career at the highly regarded Eriks.
Johan at AG
Johan is executive chef and responsible for the culinary world – menus, boutique products, and more – that has developed from the outstanding meat restaurant AG. He got where he is via France and has worked in reputed kitchens such as Paul & Norbert, Pierre au Palais Royal, Vassa Eggen and Rolfs Kök.
Michael at Familjen
Michael Bischofer has worked in the kitchens of Pelikan in Gothenburg, Bro Hof, EAT, LUX and B.A.R. where he was Chef de Cuisine. After returning to Göteborg he worked in the Asian fusion restaurant Toso, and then moved on to extremely popular Familjen.
Stefan at Lisa Elmqvist
Stefan Eckert has been head of the fish dominated kitchen in Lisa Elmqvist since 2013. He has previously worked in the prestigious kitchens of Hotel Eden in Chamonix, Le Bouchon i Oslo, Berns, Prinsen, Gustavia och på St Barths.
Nina at Lisa Elmqvist
Nina Arvdisson at Lisa Elmqvist has worked in the kitchens of Elite Hotel (Gothenburg as well as Stockholm), Hamnkrogen and Pepes Bodega in Båstad, Bliss Combo, and more.
Peter at Lisa Elmqvist
"Peppe" Elmqvist is a fourth generation fishmonger at reputed Lisa Elmqvist, purveyor to the Swedish Royal Family.
Linn Söderström
Linn is a blogger and runs ambulating restaurant Garba. She is also one of the driving forces between the network of women chefs known as "TakeOver". She has previously worked in the kitchen of prestigious restaurants like Ekstedt, Operakällaren and Street Restaurang.
Magnus Bentzer at Aubergine
Magnus was taught and trained by star-awarded Swiss chefs and has worked his way through restaurants like Stockholm Grand Hotel, L'Escargot, Leijontornet, to mention a few. Today he runs popular Restaurang Aubergine as well as 39 Wäst in Stockholm.
Albert at Austin Food Works
Albert "Abbe" Lindo started his kitchen career in Street in Stockholm. Since then he has worked in kitchens like Döden i grytan, Kitchen Table, Nalen and Hasselbacken. Today he is Sous Chef at Austin Food Works.
Carina and Ulrika Brydling
Carina and Ulrika once ran Restaurant Marmite in the Swedish ski resort Åre together with Ulrikas husband Jörgen Calmsund. Ulrika is also a sommelier and the sisters have published several cook books. Today they are consultants in food and run, among other projects, the restaurant Bro Park.
Joel at Krakas
Joel Aronsson is Chef de Cuisine in Krakas Krog on the island of Gotland where he is personally in charge of the cultivation, purchase and cooking of greens that end up on the guest's plates. Previously he was at Michelin star rewarded restaurant Fäviken in Jämtland.
KC Wallberg at Gubbhyllan
KC runs legendary Gubbhyllan at Skansen in Stockholm – and he (not surprisingly) hunts. He is thororoughly educated in most subjects relating to the food experience and has worked the kitchens of Riingo and Café Boloud in New York and was once ran Gripsholms Värdshus.