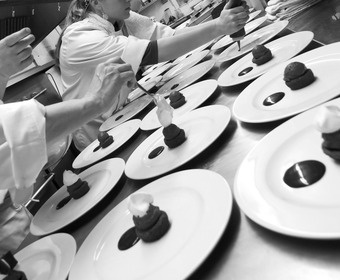 The art of decorating desserts
We eat with our eyes. It's been said so often and for so long that it's become a cliché. But it's true, and it applies even more when the final, (usually) sweet, course arrives on the table. There are some really, really simple tricks that go a long way:
Sprinkle with cake crumbs
A sprinkling of cake crumbs looks attractive and is delightfully crunchy on top of all "soft" desserts from panna cotta, to chocolate mousse and ice cream. Pick your favorite biscuits, bake a trayful and crumble the amount you need. Oat flakes, shortbread or ginger biscuits work excellently as long as they're crisp. If you want to push the boundaries a bit, try crumbling white bread or rye bread.
I like using bread in my desserts.
– Christophe Buchet, Bleck
Freeze crumbs
Use cocoa butter and chocolate as a protective covering to keep crumbs crisp in the freezer. Method:
Melt and mix together 20g cocoa butter and 30g milk chocolate. Pour it over your cooked crumbs, spread them out on a baking sheet and put the sheet in the freezer so they solidify quickly.
Toasted coconut adds an attractive touch
Coconut toasted in a frying pan or in the oven adds new dimensions to the flavors and goes with lots of different things. To make the coconut extra crunchy, with extra flavor, moisten with a sugar solution before toasting.
Make chocolate shavings
The simplest decoration you can make is by taking an ordinary block of chocolate and putting it in the fridge for an hour or two. Once it's cold and hard, shave off attractive flakes with a cheese slice.
You can never go wrong with toasted nuts
Check first that no-one coming to dinner has any nut allergies. If the coast is clear, toast those nuts! Halved or chopped hazelnuts, cashews, pistachios or walnuts add little bits of crunch that go with most things in the dessert line.
Toast the nuts in a frying pan until they are gently browned, and the skin has come off the hazelnuts. Be extra careful when toasting cashews and walnuts as they burn easily. You can also toast nuts in the oven at 190°C/374°F.
Toasted almonds
Almonds need to be blanched before toasting. Then you can toast them without their skins just like any other nut.
Toasted sesame seeds
Toasted sesame seeds aren't reserved for Asian cuisine, they make desserts taste even better too. If you have a weakness for sesame biscuits, mix the seeds with a little cane sugar before you start.
Decorate with fruit and berries
Pick the best-looking ones for your decoration and put the rest in a pie, compote or jam.  Kiwis, strawberries, raspberries, star fruit, passion fruit and pomegranates are little works of art in their own right. You can make it more complicated by carving them into ambitious shapes, but most fruit is beautiful just as it comes, or maybe sliced.
Raspberries are the best berries. Beautifully acidic, gorgeous to look at, sexy. What's not to like?
– Kin Tsui, 39Wäst
Recipe: Nougatine with crushed cocoa beans
Nougatine is the perfect decoration – stylish French brittle, here with crushed cocoa beans (also known as cocoa nibs). The crushed cocoa beans add crunch and a suitably grown-up taste. Serve the nougatine as it is or use to decorate mousse, ice cream or custard.
The recipe was created specially by Martin Isaksson, on of Sweden's foremost chocolatiers (and world champion with the Swedish national culinary team, etc.)
112g granulated sugar
60g butter
2 tbsps glucose
150 ml (2/3 cup) crushed cocoa beans
Boil the sugar, butter and glucose at a low heat until golden brown, for approximately 30 minutes.
Pour in the crushed beans, then stir and pour the mixture onto greaseproof paper.
Put another sheet of paper over the top and roll out as thinly as possible while still warm.
Bake the nougatine in the oven at 180°C/356°F for approximately 10 minutes. Leave to cool and break into attractive pieces.
It will quickly go sticky in moist air so keep it in a jar.