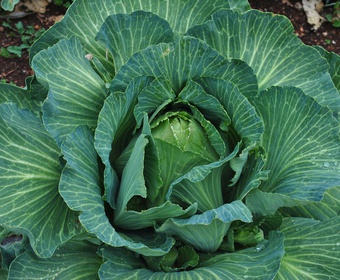 CABBAGES AND KALE
Kale has been the number one trend vegetable for a while now, and for good reason. All the members of the cabbage family, known as brassicas, are packed with nutrients, cost practically nothing, are grown locally and taste wonderfully sweet, or fresh and crisp depending on how you cook them.
I'd call kale the original super food.
– Paul Svensson, Fotografiska in Stockholm and other restaurants
Three groups of brassicas:
They differ in shape and size and properties, but they all belong to the same versatile family of "brassicas":
The kind that form a ball, such as red and white cabbage.
The kind that form long leaves from a stalk, such as green and black kale.
The kind with florets that look more like flowers than vegetables, such as broccoli and cauliflower.
Kohlrabi, with its swollen base, is a separate variety in this context, but we believe it belongs here thanks to its pronounced taste of cabbage.