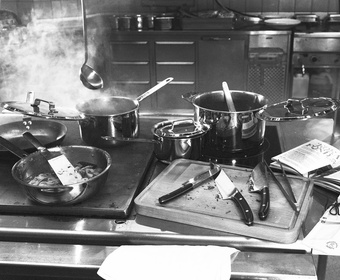 The chef's essential tools
Cooking becomes easier ­ – and a lot more fun – with the right equipment. A sharp knife makes all the difference when slicing tomatoes, and cutting boards, frying pans, spatulas and quality cooking pots also matter. On these pages you get a little help from the pros when choosing adequate equipment for your kitchen.
Tips for all kitchen tools:
They must be durable and sustainable in the kitchen. Cooking is a tough sport which includes heat, chemical reactions and physical strain.
They must be sustainable for the environment. Throwaway materials is a bad idea. Sustainable, solid materials that make recycling easy is a good idea.
Sustainability has its advantages: The more time you get to handle a particular tool, the better you get to know it and to develop your skills when using it.
Stackability is a blessing. For some reason kitchen cupboards and shelves are always crowded, in all kitchens, and always will be…
It doesn't hurt if your kitchen tools are attractive. You won't feel the same need to tuck them away in cupboards and your guests will be perfectly happy if they end up on the dining table.
Read more:
Straight from the pros:
"Chef's Essential Kit" from PS, available on your market soon.