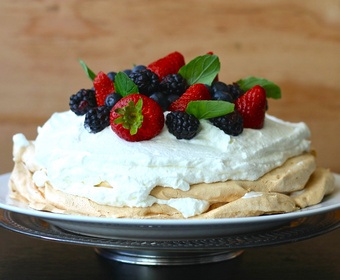 Perfect Pavlova
Preferably Swiss meringue
Serve immediately
An ugly looking pavlova is still a pavlova.
Both Australia and New Zealand claim to have invented this dessert when Russian ballerina Anna Pavlova toured both countries at the start of the twentieth century, but it was probably invented in Germany and emigrated to the USA at some point in the nineteenth century. It's a simple dessert comprising a meringue case topped with whipped cream and fruit.
Swiss meringue tastes best
A pavlova tastes best if the meringue case is gorgeously chewy inside and crunchy and crisp on the outside. This result is best guaranteed by beating the meringue over heat (Swiss meringue). Read more about the art of making meringue. If, for some reason, you need to make your pavlova a long time before serving, drier, French meringue might be a better idea.
Lemon curd or not?
Opinion is divided but if you're following the "original recipe" from Australia or New Zealand on the net, there shouldn't be any lemon curd in your pavlova. Just meringue, whipped cream (possibly flavored with vanilla) and fresh fruit.
What does a pavlova look like?
Traditionally, the meringue case should have high edges – like a crater – and be filled with cream and fruit. It looks a bit fresher and more modern though with less of a dip and a thinner layer of cream and fruit.
Which fruit?
Whichever you like. Choose fruit that's in season and that you think goes with the other ingredients (cream and citrus fruit can curdle...). In Australia and New Zealand, this dessert often has a tropical touch with mango, kiwi and passion fruit as common ingredients.
Make immediately, serve immediately
To ensure the flavors and textures are spot on, a pavlova should be served immediately after you've made it. Otherwise there's a big risk that the juicy ingredients will merge into a big mess. It will still taste good, but you'll lose all the textures. For the same reason, the fruit should ideally be completely fresh. Frozen fruit tends to "bleed".
Beautiful pavlova, ugly pavlova
Pavlova is a forgiving dessert. If you can produce beautiful little meringue cases and can serve perfect tartlets to your guests, congratulations!
Another way is to cook a large, thick meringue case on a large baking tray. Set out the whole case covered generously with cream and fruit and let guests serve themselves. Like a children's party for grown-ups.
If your meringue case has a mind of its own and only comes off the tray in broken pieces, that's fine too. Arrange the chunks of meringue rustic style on a beautiful serving dish, decorate with dollops of cream (think Eton mess) and top with the fruit. If any of your diners complain, they're the problem, not your pavlova.
With or without starch and acidity
Many recipes suggest using corn starch and a small amount of neutrally flavored vinegar in the meringue. Vinegar makes it easier for the egg white to bind air and harden and the starch gives the mixture a bit of body. It's up to you whether you want to use them. Many people think "pure" meringue tastes better because vinegar does add a little of its flavor and starch makes the meringue a bit more rigid.
Pavlova recipe
Ingredients to serve about 8
4 egg whites
a small pinch of salt
225g sugar
If desired: 2 tsp corn or potato starch
If desired: 2 tsp white wine vinegar
butter to grease the tray
200ml whipped cream
Fresh fruit
Method:
Preheat the oven to 225°C/437°F.
Beat the egg whites until stiff. Add the salt to begin with and the sugar a little at a time as you beat. Beat until the meringue forms stiff peaks. If you have trouble getting it to this stage, sprinkle in the corn starch and/or vinegar.*
Grease a cake tin approximately 24 cm in diameter or several smaller individual tins.
Spread out the meringue making a little dip in the middle.
Put in the bottom half of the oven. Lower the temperature to 125°C/257°F and bake for about 1 1/2 hours.
Important: When the time is up, turn off the oven leaving the meringue inside. This gives you a more even, gradual chewiness in the center of the meringue.
Leave the meringue case to cool before trying to get it off the tin.
Whip the cream. Absorb any moisture from fruit by laying it on a clean, dry tea towel. Slice larger pieces of fruit.
Top the meringue with the cream and then the fruit.
* It's a bit trickier but if you want to be completely certain of a perfect meringue case that's chewy in the middle and crunchy on the outside, make Swiss meringue.