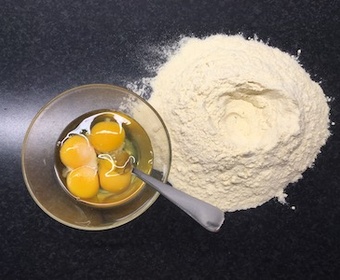 How to make homemade pasta
At the bottom of this page you will find an excellent recipe for a smooth, elastic dough suitable for most kinds of "unstructured" pastas. But before you jump to the recipe we seriously think you should read every word of this:
The recipe is not all
The recipe below is tried and tested, but some eggs are bigger (and contain more water) than others, different flours behave differently, and some kitchens are warmer and dryer or more humid than others…
In other words: A perfect recipe will take you almost all the way, but you have to learn to recognise when your dough is perfect. You need practice and you need – no matter how good the recipe – some skills and some knowledge:
Recognise perfect pasta dough
A perfect pasta dough has an unmistakable "springiness". It has an elastic texture and is smooth and silky to the touch and neither sticks to your hands or to the rollers or crumbles or tears when you work it through a pasta machine. The color depends on the amount of egg yolk used.
Keep in mind: After kneading and before resting your ball of dough is going to feel firm, rather than elastic. The elasticity will come back after resting.
What flour for pasta?
The flours below – and others – can be combined to make pasta with new properties, but we recommend that you get fully acquainted with one kind of flour before moving on and experimenting.
All-purpose flour is what most people have in their pantries and is quite suitable for homemade everyday pasta.
Italian 00 flour has a powdery texture and is very white in color. It can yield very silky noodles.
Semolina is coarse durum wheat. It has a rough texture helps sauces cling to your noodles.
Too little flour better than too much
When aiming for the perfect pasta dough, remember:
Go easy on the extra flour: You can always add more flour to a sticky dough, but you can't take it away.
Go easy on the extra water, too: Things can get messy quicker than you think. Administer extra liquid it with a tablespoon or, even better, a spray bottle.
Olive oil or not?
Olive oil in the recipe is optional. It has an inhibiting effect on the formation of gluten, making the dough stay more elastic. Should olive oil be used or not? Experiment and form your own opinion. That said:
Optimize your dough
For a softer, mushier final result: Add the teaspoon of olive oil.
For a richer flavor and color: Add an extra egg yolk.
For exciting colors: Experiment with spinach, beetroot, squid ink, etc.
Secrets of the pasta machine
Crude – but very charming and homely – pasta can be made with just a rolling pin and a sharp knife. But if you are serious about pasta thin enough to make light and delicious ravioli, get a machine. And:
Flour the machine lightly before feeding the dough through. 
Make space for a tray with flour-dusted baking paper for the flattened dough/noodles.
Never wash the pasta machine. Give it a dusting with a (dry) brush or cloth.
Storing fresh pasta
If necessary, cover with a kitchen towel and refrigerate the pasta until it's time to cook. in a dry environment, use a humid towel.
Fresh pasta in a sealed plastic container can be stored in the freezer for a couple of weeks. Pasta from the freezer can be cooked directly.
Pasta dough recipe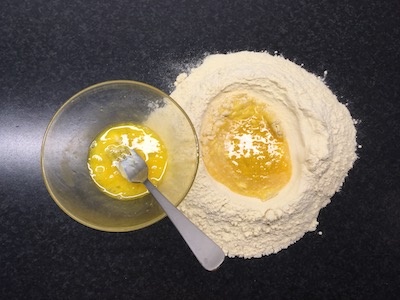 Extra yolks deliver more color, more egg flavor, and delicious silkiness to this pasta.
Ingredients (serves 4)
0.5 L (2 cups) of flour
4 whole eggs plus 2 egg yolks
A pinch of fine-grained salt
(1 tsp olive oil)
(2 to 3 tbsp water if necessary)
How to make pasta dough
A kitchen helper is faster, but working the dough by hand allows you to get the ideal texture with greater precision.
Form the flour into a "volcano" on a flat, cool surface. Form a well in the center.
Whisk the eggs and egg yolks in a bowl, adding salt and (optional) olive oil.
Add thee eggs gradually into the well while using the fork to work the flour into the eggs. Continue until all the egg is incorporated and the dough looks like crumbs.
Flour your hands and knead the dough into a ball.
If the dough is wet, add more flour a pinch at a time. If the dough is dry and crumbly, add cold water one spoon at a time.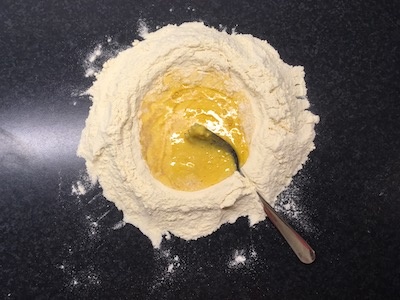 How to knead pasta dough
Press the heel of the hand into the ball of dough, pushing forward and down with your upper body.
Rotate the ball of dough 45° and repeat.
And repeat…
Continue kneading – for about 10 minutes – until the dough is firm and elastic. (At this stage it will feel more firm than elastic.)
Plastic wrap the dough and rest for at least 30 minutes before making your pasta.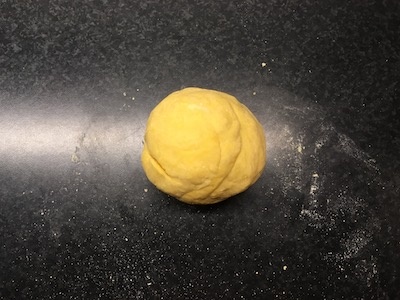 How to use the pasta machine:
Unwrap the rested dough and cut it into quarters. Use a rolling pin to flatten the quarter of dough into an oblong shape suitable for the machine.
Start with the flat roller on the widest setting (the highest or lowest number, depending on your machine).
If electric, set the machine to a medium-low speed. If hand-cranking, try to find a steady rhythm.
Feed the dough into the roller at least two or three times. Repeat for the two first settings. And then:
Reduce the thickness of the rollers by one setting each time until the dough reaches the desired thickness. It should be translucent and delicate.
Dust the pasta with flour and cover with a kitchen towel to prevent drying.
Repeat the process with all the quarters of dough.
Laminating
By laminating the dough – folding it and feeding it back into the machine – the final texture can be perfected (but avoid overworking it). It may also cover up tears and holes in your sheets of pasta. Laminate at least once during the process.
How to laminate:
Place the dough on a flat work surface and fold both ends in so that they meet at the center. Then fold the dough in half where the ends meet. If necessary, use a rolling pin to flatten the dough, then pass it through the rollers again.
Don't forget to reset the machine to the widest setting when the folded (and therefore thicker) dough goes back in.
Pasta thickness, briefly:
For a bouncy pasta like fettuccine you probably want the second to last setting for a little "body".
For ravioli, which will be applied in double layers around tasty filling, the thinnest setting is recommended. The ravioli pasta should be translucent and requires some delicate handling.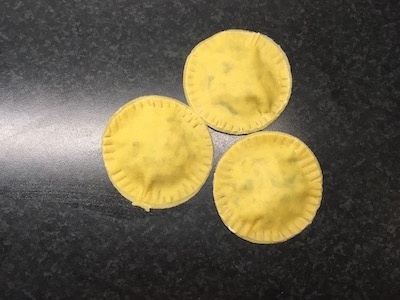 How to cut noodles:
Follow the instructions for your machine and adjust/attach the noodle setting desired. Feed the dough through the noodle-cutter one segment at a time.
Gently fluff the noodles and spread them on a flour-dusted baking sheet.
Cover with a kitchen towel, they should not be allowed to dry for too long before cooking.
How to cook fresh pasta
Cook noodles al dente in boiling water. It will take only 2 to 3 minutes.
Lower ravioli and other filled pastas gently into simmering water. They are finished when they start rising (bigger ravioli with more filling will take longer).