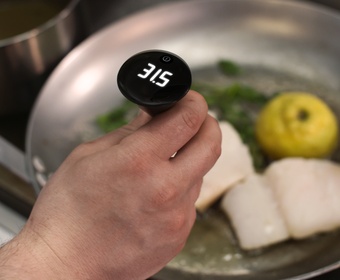 Universal food temperature guide
The application of heat – or cold – on food is a matter of physics and chemistry. The kitchen thermometer puts the chef truly in control of this process, making it one of the most important tools in the kitchen.
Chefs' recommendation
Please be aware that produce quality can affect local temperature guidelines. The temperatures given below – in °C and °F respectively – are chefs' recommendations, not safety guidelines. Always refer to local authorities for appropriate temperature information.
Internal temperatures meat:
| | | |
| --- | --- | --- |
| Bleu (beef) | up to 45°C | up to 113°F |
| Rare (beef, game) | 45 – 50 | 113 – 122 |
| Medium-rare (beef, game, veal, lamb) | 50 – 54 | 122 – 129 |
| Medium (beef, game, veal, lamb) | 54 – 58 | 129 – 136 |
| Medium-well (beef, game, veal, lamb) | 58 – 65 | 136 – 149 |
| Well done (beef, game, veal, lamb, pork, poultry) | 65 – 72 | 149 – 162 |
Internal temperatures fish:
| | | |
| --- | --- | --- |
| White fish (e g cod, flatfish, bass) | 50 – 52°C | 122 – 126°F |
| Monkfish & halibut | 48 – 50 | 118 – 122 |
| Salmon | 48 – 52 | 118 – 126 |
| Tuna | 31 at the core | 88 at the core |
| Lobster, crayfish, scallops | 45 | 113 |
Recommended temperatures cooked food:
| | | |
| --- | --- | --- |
| Reheat food | 63°C or above | 145°F or above |
| Keep hot food hot | 60 or above | 140 or above |
| Keep cold food cold | 5 or below | 40 or below |
Temperatures for baking, pastry, desserts:
| | | |
| --- | --- | --- |
| Light bread | 95°C | 203°F |
| Wholemeal bread | 98 | 208 |
| Fudge | 118 | 245 |
| Soft butterscotch | 122 – 125 | 252 – 257 |
| Tough butterscotch | 126 – 130 | 259 – 266 |
| Hard butterscotch | From 145 | From 293 |
| Swiss meringue | 55 – 60 | 131 – 140 |