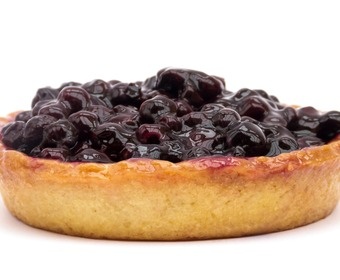 How to make perfect pies and tarts
Use plain flour with a low protein content
Don't work the pastry for long
Cut into attractive slices
Top with meringue
Always plenty of butter
If you can make a tart, you know how to make at least ten desserts. The trick is learning to make pastry. Then all you have to do is fill it with seasonal fruit. Nuts and marzipan are also excellent as part of the filling. Or put nuts, including almonds, in the pastry case itself. As long as you can make decent pastry, tarts and pies are a chance to express yourself!
The right flour for perfect pastry
A pastry case needs to be crisp and almost melt in the mouth. To achieve that effect, use ordinary plain flour with a low protein content. "Strong flour" can sound tempting on the packet but that kind of flour is meant for breadmaking and forms long, stretchy threads of gluten. Choose "normal" flour with a low protein content instead.
Wholegrain spelt flour can also produce a good, crisp pie crust according to Christophe Buchet at Bleck.
Leave the pastry to rest
We've all heard it before – pastry needs to rest for at least 5 minutes before rolling it out. The tension in the dough relaxes if you leave it alone for a bit. (Pastry is basically an introvert).
Always use plenty of butter
Pastry made from butter tastes wonderful, full-bodied, and slightly salty.  Pastry made from margarine doesn't taste like that. Always use butter. When making the pastry, the butter should come straight from the fridge because solid fat is best at separating out the flour particles and preventing the formation of gluten.
One tradition and technique that has died out rather – for obvious reasons – is using lard in pastry. It's said to produce unbeatably crisp, melt-in-the-mouth pastry.
...or lard
An old trick, not seen very often in modern kitchens but still popular perhaps with older home bakers, is using lard in pastry and cakes instead of other fats. It is said that lard makes pastry for sweet and savory dishes easier to work with and crisper. Try it: Swap about half of the butter for lard.
And note that pure lard is a flavorless fat with an excellent ability to bring out other flavors.
Think local
It's become increasingly common to look to the food on your doorstep. It often comes down to using ingredients that are in season – at times of year where that's possible. The focus on using local produce means fewer food miles and more flavor for your money. Freeze fruit that you've picked or bought when it was ripened by the sun, full of flavor and at its best, and use it through the rest of the year.
Use things that are in season. Otherwise it won't taste of anything.
– Christophe Buchet, Bleck
Freeze pastry cases
If you have pastry left over, roll it out and line a tin or two that you can have ready in the freezer. You can also roll it up and wrap it in clingfilm to defrost and quickly turn into biscuits.
Stopping the pastry shrinking
Sometimes when the pie goes into the oven, the pastry collapses under its own weight and slides down the edges of the dish. To avoid this happening, some dessert professionals blind bake the case using dried peas or baking beans. Here's how:
Roll out the pastry and line the pie dish as usual.
Put a sheet of baking parchment inside the unbaked pastry case.
Fill with dried peas so they fill the pastry case right up to the top.
Put the pie in the oven.
This should keep the pastry in place until it's cooked after about 15 minutes. Try it.
Make tartlets:
Sometimes it's easy to make a big pie or tart for everyone and let them take as much as they like. It tastes good that way. But just dividing the pastry into squares, or cutting out circles for tartlets (small, round tarts) with a pastry cutter makes it all considerably more glamorous. If you've got an amazing tart in your repertoire, try turning it into a showstopper of a dessert. Maybe with some Italian meringue on the top.
Italian meringue makes everything lovelier
All tarts look like masterpieces if you put Italian meringue on top. Think Lemon meringue pie. In terms of flavor, the meringue adds the most effect when the filling is acidic, e.g. rhubarb or lemon. Unlike ordinary meringue, what we call Italian meringue is soft and only lightly grilled or browned on the top.
Italian meringue method:
Warm the water and sugar to form a sugar solution. It should reach a temperature of about 120–121°C.
Beat egg white with a dash of lemon juice until stiff.
Drizzle the hot sugar solution into the egg while continuing to beat.
Pipe the fluffy meringue on top of the finished pie or tartlet.
Brown the surface of the meringue with a chef's blow torch or put it in the oven under a grill at 250°C.
You'll find a more precise Italian meringue recipe here.
To bake blind or not to bake blind
Whether your pastry case needs to be baked blind or not depends on what you're going to put in it. If you've made an amazing apple compote, all you have to do is bake the pastry case, add the compote and your tart is done. You could also warm up your compote and make it feel at home in the pastry case with a few minutes in the oven though. If you're making a rhubarb pie from freshly picked rhubarb, you need to bake the pastry and the filling, so do that at the same time.
If you can't find good fresh fruit, use frozen!
– Martin Isaksson, Chokladfabriken
Marzipan
Almonds are excellent in the pastry and in the filling but don't just buy any old block of marzipan. Look at the ingredients. Proper marzipan should be half almonds, half sugar. Nothing else.
Apple pie recipe
4 decent portions
PASTRY:
270g plain flour
2 tbsps sugar
150g butter from the fridge
2 tbsp cold water
FILLING:
3–4 tart (i.e. sour) apples
1 tsp sugar
1 tsp cinnamon
Put the flour and sugar in a mixer. Add cubes of butter and process until it forms crumbs, about 6 seconds.
Pour in the water and process until the pastry looks as if it's about to form a ball but hasn't quite done it yet.
Cover and leave to rest in the fridge for at least an hour.
Roll out the pastry, line a tart dish and put in the fridge for about 30 minutes.
Bake the pastry blind for 10 minutes at 200°C.
Wash and core 3–4 apples and slice thinly. Lay them in the pastry case in an attractive pattern. Mix the cinnamon and sugar and sprinkle over the top.
Bake for 20-25 minutes at 225°C.
Serve with vanilla ice cream.