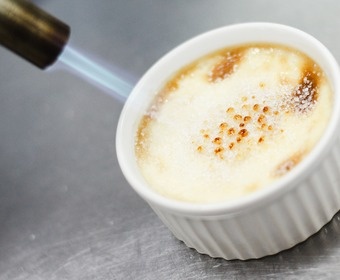 The most important equipment for dessert chefs
You don't need that much specialist equipment to make unforgettable desserts. An ordinary scraper will work fine if you want to temper chocolate and a tea strainer will happily sieve icing sugar over a pie. But there are some gadgets that make it easier and more fun to be a pastry chef in your own home.
Stainless steel bowls
Many bowls are made of plastic, which discolors over time, especially if you do a lot with chocolate and saffron. Find a hardwearing, stable, attractive bowl that looks like new every time you take it out to create a new dessert. Read more about bowls.
Buy professional quality bowls from PS.
Electric scales
If you work with desserts long enough, you'll understand why pastry chefs always weigh their ingredients. It's right more often, basically. And easier.
Scales. Every time.
– Kin Tsui, 39Wäst
Digital thermometer
You need a quick and sensitive thermometer even when cooking desserts. It's important that the sensor is thin, so you don't leave big holes in fluffy cakes.
Buy the ultimate kitchen thermometer from PS.
Blow torch
A small chef's blow torch is a must if you want to be able to create the perfect, crisp topping on your crème brûlée or beautifully brown your Italian meringue.
A larger blow torch will produce and even better and more even result, but don't bring in something from the garage. Stick to chef's equipment designed for the purpose. If your blow torch is charged anyway, use it to produce a great-tasting outside on celeriac before baking it whole in the oven.
Spatula
Most kitchens will already have a spatula to get the last bit of cake mix out of the bowl. If not, it's a minor and sensible investment.
Buy a professional quality spatula from PS.
Chinoise
The mesh of an ordinary sieve sometimes just isn't fine enough. A chinois is a fine-mesh metal sieve that enables you to strain out very tiny bits that you don't want in the finished dish, such as when you've boiled cream with coffee or lime zest to make panna cotta.
Zester
It's always the outermost part of the citrus peel you want, not the white, bitter pith underneath. To make sure you just get the thin flakes of peel with the flavor, you need a zester.
Balloon whisk
When you're dealing with slightly larger amounts of mixture, you need a balloon whisk to add air.
Nozzles
Small improvements in presentation make a huge difference in terms of the impression on your guests, especially when you produce the dessert course. Nozzles are the stainless steel ends that you put at the end of the piping bag. You probably want three or four different ones for variation. One for mousse, one for meringue and one for writing on birthday cakes.
Piping bags
"You can just use an ordinary plastic bag", people say. Well they're wrong. Piping bags are more stable and make it easier to get the mixture you're piping to land where you want it to when you want it to.
Palette knife
A palette knife is a rectangular spatula, either flat or angled, which makes it easier to level off the top of your cheesecake. Essential for an ambitious dessert chef.
Cutters
Yes, you can always use a glass out of the kitchen cupboard. But to cut out perfect rounds, it's useful to have some cutters. These are rings in stainless steel with edges a few centimeters high in different sizes. Useful for cutting out tartlets and biscuits, etc.