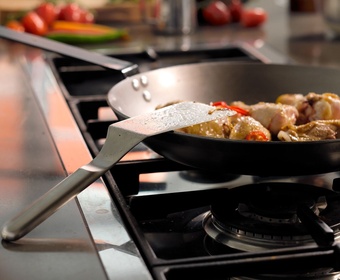 PS spatula
How much can you research and develop a frying spatula? A lot, it turns out. Optimizing this tool – also known as "turner" or "flipper" – is a matter of material, function, and some sharp insights.
Fine – not sharp
A thin and supple spatula with an extra fine and tapering finish. However, the outer edge is somewhat rounded to avoid the the steel being so sharp that it gets stuck in – or even damages – the protective layer in a broken-in steel frying pan.
Only steel will do
Stainless steel is a prerequisite for the right shape. It is flexible, tough, and relatively light. Plastic requires a much clumsier construction – and may release unwanted substances when heated.
The right drip
PS spatula rests perfectly on the edge of an ordinary frying pan. It is perfectly angled so that any dripping fat ends up in the pan, not outside. The handle is steady, comfortable, and heat resistant.
Book of spatulas included:
Stainless steel is optimal.
A steel spatula needs a steel pan.
A thin edge is of essence, perfectly balanced between stability and flexibility.
PS spatula:
Perfect angle leads drops of fat into the pan.
A fine – but not sharp – edge slips under the food without damaging the pan.
Robust and tough.
SPECIFICATIONS:
Material: Brushed stainless steel
Dimensions: Total length – 285 mm
Buy and sell
Do you want to buy PS spatula? Contact us here.
Do you want to be a reseller of our spatula and other PS "Chef's Essential Kit" products? Contact us here.