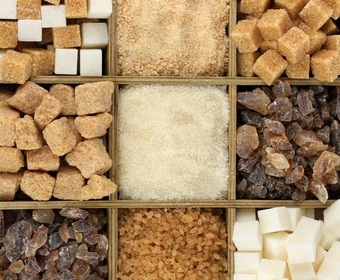 Choosing sugar
Sugar is what most desserts have in common. The sugar you choose can play a major role in the result, not just in terms of flavors but also when it comes to texture and appearance.
Going in with a different sugar gives it an extra dimension.
– Martin Isaksson, Chokladfabriken
Granulated sugar for neutral sweetness
You can go a long way with ordinary granulated sugar. Granulated sugar produces a neutral sweetness. You can think about other kinds of sugar if you want the sugar to do something other than just produce sweetness.
Use what you've got at home. Look in the pantry.
– Christophe Buchet, Bleck
Ordinary white sugar in desserts
Completely ordinary granulated sugar made from sugar beet works best for most desserts. Caster sugar is a finer-grained version of the same thing. Plain white sugar is easiest to work with and produces a neutral flavor that lifts out the vanilla, chocolate, strawberries or whichever flavor it is you want your guests to notice.
Icing sugar is ordinary sugar
Icing sugar, also called confectioner's sugar,  is ordinary, white sugar, just ground into a powder. This means it dissolves more easily when used for making icing, for example.
Cane sugar for caramel flavor
You can use cane sugar to get a lovely caramel flavor.
Difference between cane sugar and raw sugar
Raw sugar and cane sugar are usually the same thing, an intermediate step in the process of refining white sugar. The difference is that cane sugar is always made from sugar cane, while raw sugar could also be made from sugar beet. Raw sugar has more flavor and works well when you want a caramel note in your dessert. It also makes a perfectly melted and slightly burnt topping on a crème brûlée.
Brown sugar has an aromatic flavor
Brown sugar is made from sugar crystals mixed with dark brown cane sugar syrup (molasses). The sugar is golden brown and moist and has an aromatic flavor that lends character to desserts and cocktails.
Muscovado adds character
If you want to highlight a licorice flavor, try adding muscovado. Muscovado sugar is a less processed raw sugar made from sugar cane. It's slightly moist and has small crystals. The flavor is like that of brown sugar, but muscovado has more of a subtle flavor.
Dark muscovado adds a hint of licorice
A dark muscovado sugar with a strong molasses flavor with elements of licorice or ginger is perfect if you want to up the licorice element in the dessert.
Light muscovado tastes of toffee
Light muscovado works better when you're making a dessert with a more distinct toffee flavor. Maybe in home-made toffee sauce?
I do like muscovado.
– Martin Isaksson, Chokladfabriken
Honey is sugar too
Honey gives a dessert a taste all of its own – of honey. Honey is four-fifths sugar, although it also contains vitamins and minerals. However, many of the nutrients disappear when you heat them. The Greek classic of yoghurt and fresh fruit can easily be transformed into a dessert by drizzling a good honey over the top. Quark with passion fruit, orange, honey and pistachios is no bad idea either. Put a few more minutes and a bit more money into finding a really good honey.
Storing sugar
Most forms of sugar need to be stored in a cool, dry place, preferably in their original packaging. Some are a bit trickier, however:
Storing muscovado sugar
Unprocessed, moist muscovado sugar quickly goes hard at room temperature. Pour it into a tightly sealed jar and keep it in the fridge.
Storing brown sugar
Just like muscovado sugar, brown sugar is a moist sugar that turns into a solid lump when it dries. Put a piece of potato or a little damp kitchen towel in the packet and leave it for a while and you'll be able to break the sugar up later. The easiest way is to pour the sugar into a tightly sealed jar from the start and keep it in the fridge.
Cooking with sugar
Sugar is a main ingredient in nearly all cooking of desserts. When dessert chefs bring out the scales and start tempering and elaborate techniques, sugar is vital.
Glucose helps
Glucose lends a helping hand when working with sugar. It's a sugar solution that you can buy at a pharmacy or in the supermarket baking aisle. A splash of glucose in the mixture avoids your ice cream, truffles or nougatine crystalizing. You don't want to taste small sugar crystals in what ought to be a smooth texture. Glucose is viscous and can be hard to get out of the packaging. Try dipping the tube or jar in hot water.
Caramelize more!
You can do a lot with melted sugar. Make caramel sauce, craft sugar decorations and – not least – caramelize fruit. If you've got some apples, pineapple or pears that are a bit too hard and bitter, sling them in a frying pan.
Method:
Melt sugar in a wide-bottomed pan until it turns golden brown.
Add the fruit, and perhaps a dash of rum, and leave the fruit to soften.
Once the fruit has fried with the sugar, you'll get concentrated and rounded flavors.
Serve hot, with ice cream, for example.
Decorating with sugar
No-one wants to be crunching through a plate of sugar, partly because it doesn't taste that nice – it only tastes good in combination with something else, e.g. something acidic – but it works perfectly for all kinds of decorations.
Icing sugar looks fabulous
Icing sugar allows you to dust an attractive topping on most kinds of desserts, as long as the dessert doesn't have a moist surface that absorbs all your sugary efforts. Pies, almond cakes and fondant are much more elegant with a snowy sprinkling of icing sugar. Put the icing sugar in a tea strainer and sift it over your dessert. Icing sugar makes it all look at least 50% more professional.
Decorating desserts
Read more about decorating desserts here.