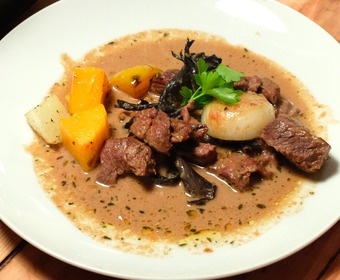 SERVING GAME
Wine in your glasses, accompaniments on the table
Make it easier for your guests – carve the meat
Warm your china
Sauce, sweet, jam, juices
Look out for shot
"Game should be served warm and 'alive'" says Ulrika Brydling. Wine should be in the glasses and accompaniments on the table before you plate the meat. Let your guests wait a bit in anticipation.
Table settings for game
Bring the season to the table with autumn leaves, berries on the stem or twigs to create a slightly rustic atmosphere. Game doesn't need to be perfectly presented on a silver carving dish. It can be served in a warm and homely setting with seasonal veg.
It doesn't need to be a work of art on the plate. Go for family style!
– Ulrika Brydling, former owner of Marmite in Åre, Sweden
Warm your china
Beautiful carved and rested game meat quickly loses heat on a cold china plate. But it's also important to heat bowls, serving dishes and gravy boats that will be put on the table. Put them in the oven before you need them. Warmed plates make the freshly cooked feeling last longer.
Great-looking game
There's a fine line between rustic and impractical. Take off the string and any added fat from joints and birds. Carve the meat, especially when serving birds. Make it easy for your guests to enjoy it.
Smaller portions of game
Because game tastes stronger, guests are usually full earlier, with smaller portions. If serving on plates, start out with small amounts and let your guests take second helpings.
Serving wild fowl
Small birds, like quail, are great as they are. Serve them whole, estimate two per person.
Cut out the fillets when serving larger birds. Cut them in half and serve with colorful, seasonal accompaniments from the forest.
All game must be served freshly cooked, or "alive" as Ulrika Brydling puts it. Make sure that the serving dish and the plates are warm to make the experience last a bit longer.
Potato purée always works. Ideally made from new potatoes. Mash or rice them before adding butter and cream. Don't hold back.
Large birds
Guests can serve themselves from a large bird which is intended to serve several people but you need to have carved it in advance. This doesn't mean you need to set the table for an award ceremony, a neatly done job on a carving board will do fine.
Small birds
Birds that feed one can be served on a plate as they are, but without any string or added fat.
Game needs gravy!
Game is lean and will be more exciting on the plate and in the mouth from a juicy, sweet or sour sauce. A good sauce is even more important with perfectly cooked meat. You can also help the meaty flavor on its way with a drops of melted butter.
Crispy skin or none at all
Loose, flabby skin on a fatty bird is neither attractive nor appetizing. If you don't succeed in getting crispy skin on a duck, for example, remove it before serving.
Look out for shot
Large game is shot with large shot but small game and wild fowl are shot with small pellets that can get stuck in the flesh. Make it a habit to warn your guests that the small balls of lead are not good for their teeth if they should happen to get one in a mouthful. If nothing else it will give your dinner guests something to talk about.
Wine in the glasses and all the accompaniments on the table. Then we carve the meat.
– Ulrika and Carina Brydling, Restaurang Marmite