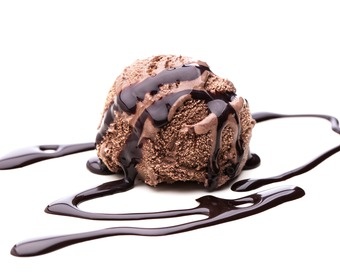 Sauces to go with desserts
Big impact for minimal effort
Add more flavors to your dessert
Make at home
Proper chocolate in your sauce
Superb sauce
Traditionally, a saucier, the chef responsible for sauces, has the highest status in a professional kitchen. Excellent sauces play a major role in attaining balance on the plate and finishing off the dishes created by the other chefs in the kitchen. But we shouldn't forget that a sauce can play just as important a role in the dessert course.
Pour sauce on your dessert
A good dessert sauce lifts and complements more than just pie. Toffee sauce transforms vanilla ice cream into a party dessert in the space of a few, slow-flowing seconds. The acidity and the sweetness in raspberry sauce takes practically anything to a whole new level. A home-made custard to go with apple or blueberry pie is an obvious choice, but there's no need to stop there. A chocolate sauce would work too. Maybe with white chocolate? Or with licorice powder in? Pour sauce on your desserts.
Easy raspberry sauce and a more complicated version
The easy version, with seeds: A simple raspberry sauce is produced by blending raspberries with a little icing sugar. It's quick and it's easy.
The harder version, without seeds: For a more elegant sauce experience, first press the raspberries through a sieve with the back of a spoon to get rid of the seeds. It takes a while to get enough to make a smooth mirror of raspberry purée, but it's worth it.
Passion fruit is also a sauce
The quickest sauce ever is made by cutting a ripe passion fruit in two and scooping out the inside. Passion fruit seeds are perfect on an orange salad, drizzled over a mousse or panna cotta, or on ice cream. Sprinkling some of the sweetly acidic seeds over an impressive chocolate cake isn't a bad idea either. Remember that the passion fruit should be really wrinkly. That's how you tell it's ripe.
Recipe for home-made toffee sauce
Home-made toffee sauce is as easy to make as it's good to eat.
Method:
Put 200ml, (4/5 cup) whipped cream, 50g butter and 90g cane sugar in a pan and boil for about 10 minutes. Crush 1/2 tsp of salt flakes and leave the sauce to cool slightly. Drizzle over ice cream and serve with toasted nuts, for example.
Make your own custard
Making custard is easy: Ignore the instant powder version and the ready-made custard in the supermarket and dig out a decent vanilla pod from the pantry. Some egg yolks, a bit of creamy milk and some sugar later, you'll have a custard that's as comforting as a hug from grandma.
Method:
Mix 5 egg yolks and 90g sugar in a bowl. Cut the vanilla pod in half lengthwise and scrape out the seeds. Bring the seeds to the boil with 300ml cream and 100ml (4/5 cup) milk. Pour the milk mixture over the egg yolks while beating. Pour the custard back into the pan and simmer until it thickens, stirring all the time. Leave to cool and serve with a delicious tart.
The best chocolate sauce to go with strawberries
If you're one of the people who doesn't like white chocolate, you'll still like white chocolate sauce with orange zest, slowly drizzled over a bowl of halved strawberries. If you already like white chocolate, we can jump straight to the recipe:
Easiest, best chocolate sauce recipe
Bring 400ml (4/5 cup) whipped cream to the boil.
Pour it onto 400g chopped white chocolate.
Grate the zest of 2 organic oranges with a zester and stir into the sauce.
Chocolate sauce made from proper chocolate
It is true that you can make chocolate sauce from cocoa powder but it's much thicker, with a fuller flavor and totally seductive if you make it from proper, good chocolate. Try Cru Hacienda from Felchlin, or another sort with a cocoa content verging on 74%.
Method:
Bring 500ml (4/5 cup) cream, 225g sugar and 1/2 a vanilla pod to the boil.
Pour the cream mixture onto 125g chopped plain chocolate.
Stir and pour slowly over good vanilla ice cream.
Chocolate sauce with alcohol
Be cautious about alcohol in chocolate sauce. A tablespoon of brandy or aged rum goes a long way. If you want more, serve it in a glass alongside your dessert instead.
A bit of alcohol sorts most things out.
– Martin Isaksson, Chokladfabriken, on flavoring things like chocolate sauce
Chocolate sauce with bite
To add heat to the chocolate sauce above, bring 1/2 a fresh chili to the boil with the cream. When choosing your chili, it's best to go for a milder variety to leave some room for the flavor of the chocolate. The heat should be like an aftertaste, not the dominant feature.
Spicy chocolate sauce
Try simmering spices like cardamom and star anise with the cream when making the chocolate sauce. Strain out the spices when you pour the warm cream over the chocolate.
Bit of a disaster? Heat gently and beat it again.
– Martin Isaksson, Chokladfabriken