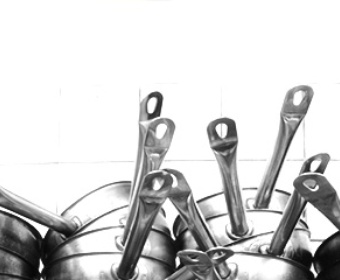 Commis de Cuisine – chef's assistant
Every professional kitchen is run along clear cut hierarchy lines. Responsibilities are divided into separate processes and work stations where everyone is expected to know their role. As a new trainee cook, you'll find yourself at the bottom of the ladder with the title 'Commis de Cuisine', or assistant chef.
"Brigade de Cuisine",  the kitchen brigade
The 'Brigade de cuisine' was designed to streamline and simplify work in a professional kitchen. Every successful kitchen around the world applies the same structure with the only differences being the number of work stations, staff and equipment used, which all depends on the size of the restaurant. The basic hierarchy looks like this: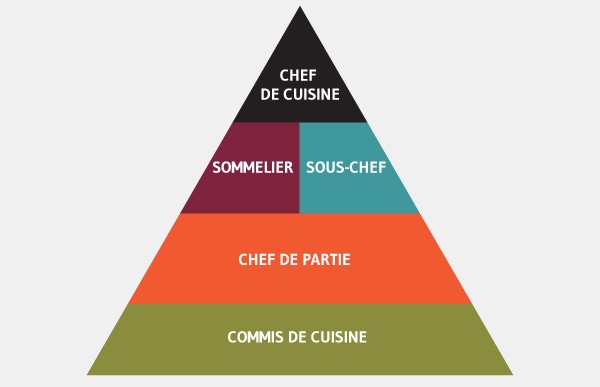 Basic kitchen knowledge
A Commis de Cuisine, or Chef de Commis, ranks at the bottom of the brigade hierarchy, but the titles and workload do not just embrace those starting off their career (the lowliest is the 'Garcon de cuisine', someone who does the mundane jobs such as the dishwashing). Commis de Cuisine roughly translates as 'kitchen assistant' or 'assistant chef'. He or she has undergone basic training or is receiving some on-the-job, but is still seen as an apprentice. A Commis de Cuisine is expected to be able to do most things in the kitchen and to have a sizeable amount of knowledge about the job.
From "commis" to "chef"
In restaurants in the western world it takes around four years to move from being an apprentice to a professional chef. Then, you continue to climb the ladder, earning more status and money. 
It is hardly a professional secret that every professional chef needs to know the basic skills of cooking inside out. You must have the culinary knowledge and know all the appropriate techniques before moving up to become, for example, a Chef de Partie.
These are the basic principles
In this section, under Commis de Cuisine, you will discover the basic know how about food itself, techniques, tools, taste combinations, hygiene and all the other stuff every cook with high ambitions needs to have under his or her belt. If you want to learn everything inside out then please feel free to do so. However, a more fun approach is to use these pages as a natural tool in your kitchen. It's fun to learn as you go along, building your know how and ability in a manageable and natural way, somewhat like an up and coming Commis de Cusine has done in a professional restaurant kitchen.
Begin a journey
We will give you the knowledge and insights about food and its preparation that once was the everyday task of full-time housewives and anyone else running a large, self-subsistent household, but which today lives on only among professional chefs who serve up fantastic food in the world's best kitchens.
We promise you'll enjoy every step!