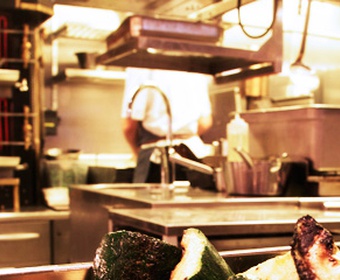 Straight from the pro's kitchen
Do you love to cook? Do you want to share some genuine Chef's Secrets™, to learn how it's really done and to become a better cook? Let us take you behind the serving hatch of some of the world's top kitchens.
Knowledge is inspiration
Ever more cookbooks are published all the time, yet few explain how to select the best raw materials and achieve stunning results by using the correct techniques – just like the pro's do in top restaurants. Our aim at Professional Secrets is to inspire and help you by passing on this elite knowledge.
Knowledge makes perfect
Applying the knowledge and tricks of professional chefs not only makes it more fun for you to cook, it also helps you make better choices. The end result will be a positive impact far beyond the confines of your own kitchen. If more of us demand better raw materials and livestock, the greater the chances we will get them. Our emphasis is on quality and striving to use food in better ways – with less wastage as a result.
Chef's Secrets™
Thanks to Professional Secrets, you can access the practical skills applied every day by the  world's top professional chefs to deliver food of the very highest quality. You gain insight into how chefs practice their trade successfully in top restaurants from Paris to Stockholm, London to New York City and Mumbai to Beijing.
PS kitchen tools
To put expert knowledge into practice you need the right tools for the job. With the help of outstanding chefs we have singled out and developed kitchen tools that fulfill the high demands that apply in a professional kitchen. To kitchen tools
Our work is never ending
Knowledge evolves and changes. Professional Secrets will also change as we harvest more and more know how and transfer it to you. Currently you can find the basics of all you need to know about kitchen basics, vegetables, meat, fish and game. And there is more to come in the near future, all with the aim of helping you serve up a perfect culinary storm.