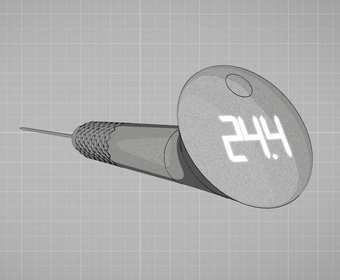 Perfect – the ultimate kitchen thermometer
Professional Secrets is all about passion for cooking. We make it our business to supply knowledge and tools from the professional kitchen to all cooks. But when we went looking for the best kitchen thermometer we were surprised to find: There wasn't one.
So we decided to create the ultimate kitchen thermometer ourselves on Kickstarter, a global crowd funding site.
Project proceeds according to plan – but funding paused
We had already launched our campaign when Kickstarter kindly made us aware that we had involved our backers too early in the production process. For projects on Kickstarter a "working prototype" must be developed before seeking funding, not after. For this reason the funding campaign has been paused – but not the project itself.
We will carry on our work with Perfect according to the original production plan (available on Kickstarter). And when we have a working prototype we will start up the funding campaign again.
Stay tuned for more news!
We plan to keep everyone posted on our progress with Perfect.  We expect to have a working prototype in January 2018 – please back us then!
And please help us spread the word to anyone you know who is passionate about cooking!