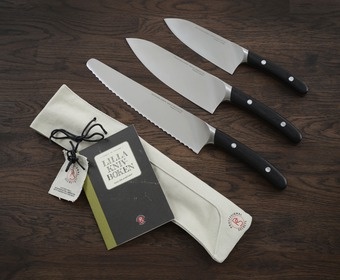 PS Chef's knives
A unique handle created for "the chef's grip".
Optimal hardness for all-round kitchen work.
Designed in Sweden, made of Sandvik Steel.
Protective canvas sheath included
Try the "chef's grip"
Peek inside a chef's knife hand and you will find a patch of calloused skin on the base of the index finger. That's because of the "chef's grip", professional cooks hold a knife in such a manner that the index finger rubs against the upper edge of the blade.
This is an innovative secret behind our knives from PS: With the help of outstanding chefs and designers we were able to create a unique blade that spares index fingers during long working hours.
Available knives:
Chef's Knife Large - 32 cm
Chef's Knife Small - 26 cm
Bread Knife - 37 cm  
Ergonomic design
The rounded blade of the knife results in a smooth motion when chopping. There is no repeated, irritating "thunk" when the cutting motion is carried through.
The handle has a slight waist for better grip. The glass fiber material is heat resistant. The tapering design is not only atractive, it eliminates potential "dirt traps".
Softer steel is more forgiving if you should happen to cut into bone or to bend the blade, but harder steel can be honed to greater sharpness and will stay sharp for longer. The steel in PS knives is medium hard, 56-58 HRC. 
Sandvik steel
The blade of the knife is made from Sandvik ® SanEdge™ high quality steel. Different chefs have different preferences, but hardness 56-58 HRC can be said to be optimal for all-round kitchen work.
Tips from the pros:
Let the weight of the knife do most of the job when chopping.
Make it a habit to use the honing steel regularly.
A professional cook would not even consider working with a blunt knife.
Specifications    
Material blade - Sandvik ® SanEdge™ Steel, 56-58 HRC
Material handle – Glass fiber 
Material sheath – Canvas
Buy and sell
Do you want to buy knives from professional Secrets? Contact us here.
Do you want to be a reseller of our knives and other "Chef's Essential Kit" products? Contact us here.
<div id='product-component-1570636767390'></div>