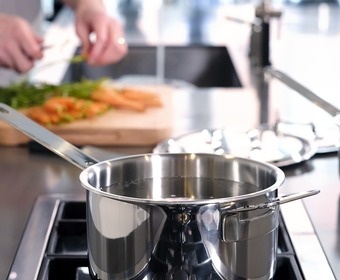 PS cooking pots – 1,5L, 3L and 6L
The thick base of a professional saucepan fulfills two important functions: To absorb heat and to distribute heat. A sturdy base also helps maintain the vessels shape when subjected to heat.
5 layers of steel
Two outer layers in stainless steel and 3 inner layers of aluminium for optimal distribution of heat. The sides, too, have aluminium all the way up. More layers means smaller risk of deformation when heating up.
Food friendly steel
Stainlees steel is a perfect material for food – and for the planet. It will not wear down and end up in your food. Nor will it end up on a rubbish heap. It is easily recycled.
Decorative on the table
In a professional kitchen they seldom end up in the dining room, but in your home an attractive saucepan on the table is a nice way to encourage guests to help themselves.
Book of saucepans included:
Saucepans take up valuable kitchen space. Stackable is a must.
A thick base is essential. It stores and distributes the heat.
A one-handed grip frees the other hand for other tasks.
PS saucepans:
5 layers from base to top for optimal heat distribution.
Stackable inside each other, including the lids.
Two grips on the largest saucepan, grip + handle on medium saucepan, and one-handed handle on smallest.
SPECIFICATIONS:
Material:
5 layers – 2 outer layers of stainless steel and 3 layer aluminium core
Dimensions:
Diameter top 160 mm, Height 98mm
Diameter top 200mm, Height 122mm
Diameter top 240mm, Height 150mm
Buy and sell
Do you want to buy PS saucepans? Contact us here.
Do you want to be a reseller of our saucepans and other PS "Chef's Essential Kit" products? Contact us here.