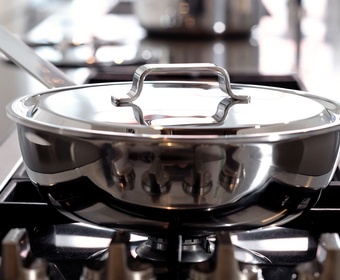 PS sauteuse
The French equivalent to the Asian wok. This indispensable, deep frying pan is for making the food jump around – "sauter" in French – as it is rapidly cooked.
Hot and fast
The secret behind sautéing is to give protein a seared surface without drying out the core. And greens are meant to heat up without losing texture and crunchiness. High heat is essential.
For the home kitchen
The PS sauteuse has optimal size for almost any kitchen. Stainless steel is resistant to hard work with steel tools as well as high temperatures.
Five layers of metal
5 layers of stainless steel and aluminium for optimal properties: Maximal absorbtion and distribution of heat, heat resistance and stability and firmness at high temperatures. 
Book of sauteuses included:
A sauteuse has similarities with a wok. The right depth and the right angles enable the right work method.
For quick and superficial heat at high temperatures.
Only small amounts of food at a time when sautéing.
PS sauteuse:
Tough, heat resistant stainless steel can easily and quickly be cleaned between quick jobs on the stove.
Easy to hold and easy to pour.
Optimal dimensions and angles allows you to make the food "jump" and simplifies work with ladles and spatulas.
SPECIFICATIONS:
Material:
5 layers – 2 outer layers of stainless steel and 3 layer aluminium core.
Dimensions: Diameter top 255mm, Diameter base 180mm, Height 76 mm