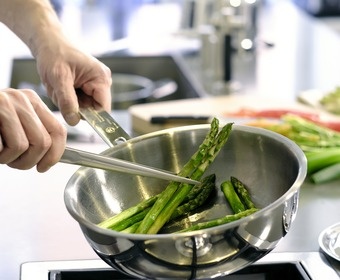 PS kitchen tweezers
This tool is somewhat smaller than standard grill tweezers, but just as useful. The idea is the same: To extend your hand so that you, with ease, can grasp food that is being subjected to heat.
Easy grip
A pair of first-rate tweezers should be able to grip a piece of hot food with some weight – but they must also require little strength to "pinch".
Superior stability
The slightly increased width of the handle makes PS kitchen tweezers more stable. Thinner tweezers – above all those made of plastic – have a tendency to "scissor" when you grasp a weighty object. It won't happen with your tweezers from PS.
Steel requires steel
The same tapering design as seen in other products from PS. When using it, remember that steel utensils can cause damage when used in pans made from other, less resistant materials.
Book of tweezers included:
Kitchen tweezers are handy for gripping a variety of ingredients.
Tweezers that bend and collaps are a nuisance in the kitchen – sometimes a danger.
It is ok to spear the food with your tweezers, as if using a fork.
PS tweezers:
A wider handle with a metal "wedge" for an open maw and better pinch.
Stable, long and pointed.
100 percent stainless steel, a durable and perfect material for handling food.
SPECIFICATIONS:
Material: Brushed stainless steel
Dimensions: 300 mm
Buy and sell
Do you want to buy PS kitchen tweezers? Contact us here.
Do you want to be a reseller of our kitchen tweezers and other PS "Chef's Essential Kit" products? Contact us here.