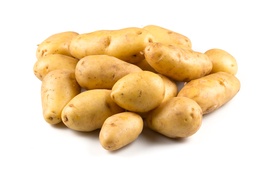 ALMOND POTATOES
Almond potatoes get their name from their shape, not their flavor. They are grown mainly in northern Scandinavia since they are – in warmer, more southern areas – susceptible to plant diseases. They have a high dry matter content, which makes them very floury, which is why they often fall apart when cooked. The further north they were grown, the smaller and more solid they are.
The skin is often reddish and the potatoes have a rectangular shape that bends slightly in the middle, like a kidney bean. The color is a golden yellow, which can be shown off, for example, in a buttery purée.
Most of the things you can do with any floury potato variety can be done with almond potatoes. But if you're serving the traditional dish from northern Scandinavia of fermented herring and potato in unleavened bread, almond potatoes are compulsory.
Keep in mind
This variety is also known as "Swedish peanut fingerling" or "Mandel potato" and is mainly found and eaten in Sweden and Norway.
Almond potatoes should simmer rather than boil. When they're nearly ready, turn off the hob and leave them to finish cooking in the residual heat. That prevents the skin from cracking.
How to cook almond potatoes
The full character of almond potatoes comes out best when boiled, mashed or deep fried as chips or crisps. But they can also be used like any other ordinary floury potato. Read more about floury potatoes floury potatoes.
The trick with boiled almond potatoes is not to let them boil but to leave them to simmer, and to turn off the heat in time:
Use a big enough pan, the potatoes should cover the bottom. Pour in water so that it just covers the potatoes.
Add salt (1 tsp salt per liter water) and bring to the boil at the highest heat. Use a lid.
Turn down the heat once the water has come to the boil.
It should simmer, not boil. Estimate about 15 minutes.
Turn off the hob and leave the potatoes to finish cooking in the residual heat.
The potatoes are ready when you prod them with a skewer, a knife or a fork and don't feel any resistance.
Remember to choose potatoes that are the same size – or cut bigger potatoes in half – when boiling them, so that they are all done at the same time.
Make almond potato crisps: Peel the potatoes and cut into thin slices. Spread them on baking sheets lined with baking parchment. Make sure they aren't lying on top of each other. Sprinkle with sea salt and place in the oven at 175°C for about 10 minutes.
The classic
Buttery, golden yellow almond potato purée to accompany a fillet of charr or a joint of moose.