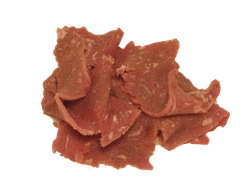 SAUTÉED MOOSE
Slicing game into thin pieces is an ancient way of using the whole animal. The result is very fine pieces of meat with the perfect amount of chewiness.
Keep in mind
Sautéing is an easy way to learn how to cook game.
You can assume that all meat from deer and moose will behave roughly the same way in the pan.
You may find game meat ready for sautéing in the shops. It might feel unnecessarily anonymous if it doesn't state the animal it's from, but it is still a product made from the best meat in the world.
How to cook sautéed moose
A larger piece of meat can be prepared for sautéing by slicing it finely when it's half frozen. Shoulder of moose works well, or prime rib of moose, which is tasty but not as tender, unless thinly sliced and sautéed.
The point of this dish is that even if the meat comes from one of the less prime cuts, it's sliced so finely that it only has to spend a few minutes in the pan. Or go for slow cooking – but your end result will be a smoother or mushier stew.
Ideal for a stir fry. The game flavor – it tends to be quite mild with moose – goes well with oriental spices. Or take the oriental cooking technique and apply it to non-oriental ingredients and flavors that go with game, e.g. celery, carrots, other root vegetables, juniper, mushrooms, etc.
Marinate the thinly sliced meat before adding it to a really hot wok.
A more traditional method is to simply fry thinly sliced moose in butter and thicken into a sauce/stew with cream, thyme, chanterelles and other autumnal forest flavors.
You can also use thinly sliced moose to replace the mince in a bolognese sauce or use it in tacos for a more interesting texture and chewier flavor. It's more nutritious and better for the environment too.
The classic
Sautéed moose tacos. Well maybe it isn't actually a classic – but it ought to be.