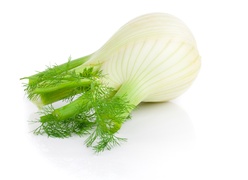 FENNEL
The word "crispy" might have been designed to describe freshly harvested fennel. The white bulb with green stalks topped with flowers is at its freshest in the summer. Later in the season it easily gets a little tough and hard to chew and it's best if allowed to simmer or is braised or oven baked for a while.
Fennel has a clear licorice flavor, which goes well with oranges, lemon and fish. A good basic idea is either not to cook it at all or to cook it for a long time. Anything in between just makes it tough.
Choosing fennel
Look for smooth, springy bulbs without lines or marks.
It's a good sign if the leaves on the green stalk look healthy.
Storing fennel
It's best to keep it in the original packaging. The material and the design will have been produced to keep the contents fresh for as long as possible.
Fennel is best when it's cool, at about 5-10°C.
Preparing fennel
If you've found one with the flowers on, save them and use as a decoration or in a salad.
Cut the fennel in half lengthwise so you can get at it to clean it properly.
The stem can be eaten too if thin shavings are cut with a mandoline or it's baked/boiled until soft.
How to cook fennel
Fennel can be anything from a thinly sliced raw salad to oven baked or fried halves or wedges. The pronounced licorice flavor also comes into its own when steamed or in fish soup.
You'll get crisp fennel if you shave it thinly, for example with a mandoline, and place in ice-cold water for at least 20 minutes. Perfect in a salad.
Replace white cabbage in coleslaw with fennel and it will add a completely new flavor of licorice.
You can also pickle thinly sliced fennel the same way as you would cucumber. Leave it to sit for a while and absorb salt, sugar and vinegar, making it crisp and packed with flavor. It will go with almost anything.
Try oven-baked fennel in slices or wedges with other vegetables and root vegetables. Spread them out on a baking sheet, drizzle with olive oil and bake at 200°C for 30-45 minutes depending on size.
Slowly fried, fennel gains a fantastic flavor. Use a lot of butter and finish off by caramelizing the fennel with a little sugar melted in the pan. Goat's cheese is fantastic with it.
Steaming fennel: Cooking in steam is a milder method for cooking vegetables that drowning them in boiling water. This method gives you fennel with a bit of bite while retaining more of the flavors (aroma!), colors and nutrients. There are special ovens for steaming. You can also invent your own using a big saucepan with a lid, a bit of boiling water in the bottom and a colander.
Slice the fennel into attractive, evenly sized wedges.
Steam for approximately 10 minutes, depending on the size of the pieces.
Drain before serving.
Fennel in fish soup: Fry pieces of fennel the right size for soup with the onions. Saffron, garlic, thyme and orange also go well in this soup. Add a pinch of chili flakes if you want a little heat.
Serving fennel
Use the small dill-like flowers for garnish.
Wedges or slices of fennel don't just taste good, they look good on a serving dish too.
Thinly sliced fennel, with or without a simple dressing or pickle, spreads a fresh aroma across the whole plate.
The classic
Fennel has a rightful place in the fish and shellfish soup of southern France, bouillabaisse.