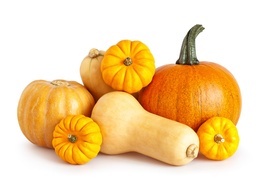 PUMPKINS AND SQUASH
Pumpkins and squash are members of the gourd family which means they are related to courgettes and cucumber. They originate in America and it's around Halloween when all pumpkins enjoy their high season – the ones that look stunning and the ones that will make a good soup.
The giant pumpkins that are mainly bought for turning into jack-o-lanterns also make good eating. Save the flesh when carving your lantern and use in a soup, a pie or a purée.
Make pumpkin seed sprouts
If you aren't roasting the pumpkin seeds, try sprouting them. Here's how:
Rinse in running water. Place the pumpkin seeds in a jar and soak in cold water for a few hours.
Drain and rinse. Pour the damp seeds back into the jar. If there is extra water in the jar, pour it away.
Cover the jar with a thin, airy fabric, attached with a rubber band.
Turn the jar upside down. Lean the jar so there's a gap where the water can seep out and air can seep in.
Place the jar on a light (but not sunny) place at room temperature. Rinse the shoots every day.
Pumpkin seeds take 3 to 5 days to sprout depending on the sort.
Choosing pumpkins and squash
There are many different kinds of pumpkins and squash that go well in different contexts. Choose from the five most common:
Muscat pumpkins or muscat squash, are flatter, broader than they are tall, and have deep wedges. You'll often find them chopped and wrapped in plastic in supermarkets. This is the sweetest type of pumpkin that's perfect in a chunky chutney.
Spaghetti squash takes its name from the way the flesh turns into threads when scraped out and cooked. This variety keeps for the least length of time of all these vegetables and has a mild and quite neutral flavor. Think of it like a slightly sweet courgette.
Butternut squash looks like a large pear in a shade of light orange. The flesh is quite light and has a bit more flavor and is sweeter than courgettes, for example. When the squash ripens the flesh gets darker and turns more orange.
A Halloween pumpkin is also called a giant pumpkin and can weigh several hundred kilos. The peel and the flesh are both orange. The flavor is like a mixture between courgettes and carrots, and it works well in soups and pies.
Ornamental gourds, which are small and come in a wide range of colors and patterns are also edible. But as long as there are tastier alternatives, you don't need to do that and can just look at them instead.
Storing pumpkins and squash
Store in a cool place and cover in clingfilm if halved.
Pumpkins and squash keep for a long time and you can store them for several weeks. Once halved, the flesh lasts a relatively long time, especially if you remove the seeds.
Preparing pumpkins and squash
Have a sharp, strong knife to hand when cutting a pumpkin in half. Slice it horizontally and then put the cut surface on the chopping board. Methodically cut off the skin from top to bottom.
If the pumpkin or squash is very hard, it can be easier to cut it into wedges first and cut the skin off one wedge at a time.
Scoop out the seeds and roast them in a dry pan to serve with drinks or as a garnish. Or sprout them (see above).
How to cook pumpkins and squash
Pumpkins and squash can be eaten raw and are packed with beta-carotene, vitamin C, vitamin A and potassium. Raw, thinly sliced – for example – pumpkin is similar to courgette or carrot. But you can also draw out the softness and sweetness by baking it in the oven, boiling and frying.
Oven-baked pumpkin or squash: Peel and cut into pieces or wedges and put them on a baking sheet with a little olive oil and salt. Pumpkins and squash contain a lot of water and also produce a lot of liquid when cooked. If you pour excess water off the baking sheet and increase the temperature towards the end of the cooking time, it won't be as sticky.
Pumpkin purée goes well with fish and meat. Cut the pumpkin flesh into pieces, boil until soft and then purée in a food processor. With a little chili, harissa, garlic or ginger and a dash of oil, it's packed with flavor.
Make a warm pumpkin or squash salad! Dice the flesh, fry it in butter and serve as it is or mixed with root vegetables and potatoes, maybe with feta cheese, toasted nuts and rocket.
Pickled pumpkin. Bring a 1-2-3 solution to the boil, add chunks of pumpkin and onion and cook until they reach the right consistency. Szechuan pepper and star anise add a bit of bite and an aniseed flavor. Pour into well-cleaned jars and leave to cool. Bring it out when you need something, sweet, crunchy and full of flavor to brighten up a meal.
Pumpkin soup is a must as autumn approaches: Bring out more of the flavor and less of the sweetness by roasting the pumpkin flesh before cooking. A tiny, tiny amount of chili will tone down the sweetness. Avoid adding any more sweet ingredients such as wine. Use a splash of lemon instead.
Serving pumpkins and squash
Pumpkin is often a decoration in its own right thanks to its attractive color.
Pumpkin soup is a good color to but it pales slightly with cooking and storing.
Feta cheese, rocket and fresh herbs bring out the pumpkin flavor and make it look even more attractive.
The classic
Pumpkin pie made with butternut squash. With cinnamon, ginger and cloves.