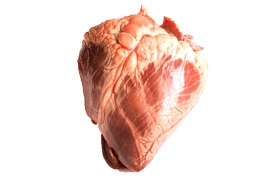 HEART
Heart has tasty, fibrous meat with a light taste of iron.
Keep in mind
Trim and wash the heart before cooking. Sharp scissors can be a useful tool.
How to cook heart of beef
Shred the meat, sear it before boiling and season with onion, tomato, herbs, salt and pepper. Heart can also be fried or grilled over high heat.
The meat is tough. Cut it across the fibers. Smooth, fatty sauces go well with heart.
The classic
Boiled heart with horseradish- or mustard sauce.