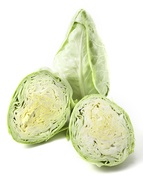 CONE CABBAGE
One of the earliest types of cabbage to be harvested, it turns up in May. The taste is slightly sweet and is similar to white cabbage in early summer. The head is cone shaped – hence the name – and a bit more loosely packed than white cabbage. Cone cabbage is often green, but can be purple or red.
Cone cabbage is more loosely packed than ordinary white cabbage and a bit more tender than many other types of cabbage.
Keep in mind
Keep its shape when cooking by just halving it or cutting into large chunks. Put beautiful whole slices on each plate.
How to cook cone cabbage
Most of the things you do with white cabbage you can do with cone cabbage too but do them with a bit more care. The fairly thin leaves work well in salads. Shred and lightly salt the cabbage and leave it to stand for a moment to soften. It will add more flavor. Cone cabbage is also good steamed, cooked in cream, fried/stir fried or in a gratin.
Help it keep its attractive shape. Cut the head lengthwise and braise in stock with orange, for example.
Cook with care until al dente, use a skewer to test. Drizzle with melted butter. Or béchamel sauce.
Boil the cone cabbage in chunks, place in an ovenproof dish, top with olive oil and goat's cheese and bake in the oven at 225°C for about 10 minutes.
Make your own cabbage salad: Thinly slice cone cabbage. Mix a vinaigrette, maybe with some chili and lime in it. Toss the cabbage in the vinaigrette and leave to absorb. Serve with fresh coriander.
Remove the leaves and place in a roomy dish with a little oil. Set the oven to approximately 90°C and roast overnight (the thicker the leaves, the lower temperature and more time you'll need). It will be like crisps – but taste better.
The classic
Whole wedges of cone cabbage baked in the oven. Add flavor with olive oil and salt and serve with everything grilled.